December 13, 2022
12-Gauge or 14-Gauge: Which is Good for Your Metal Barn?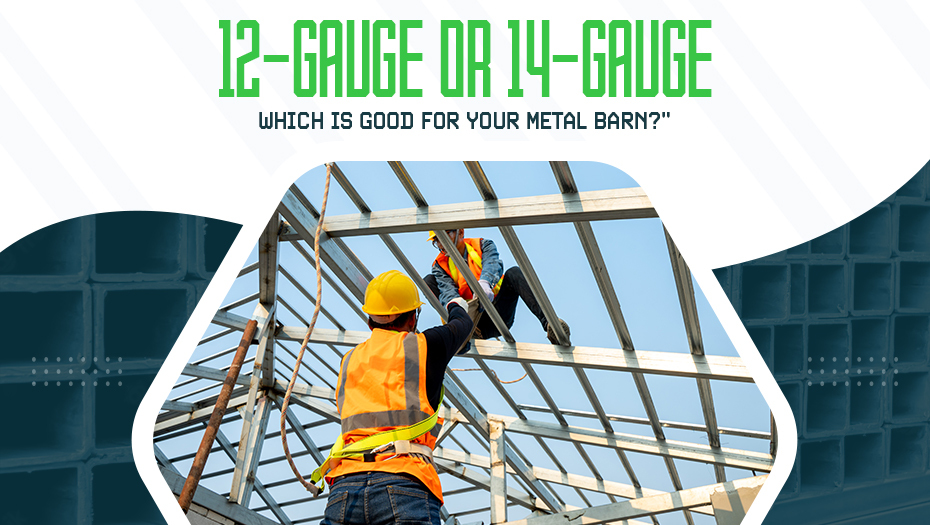 In the current scenario, applications of prefabricated metal garages are not limited to some simple agriculture sheds on farms. Application of these structures is more vital than before. If you consider buying one, you must know some technical information about metal barn buildings.
In terms of technicalities of the metal building, there are only a few things you should concern about. And metal gauge or thickness is one of them. It can play a significant role in the stability and integrity of the structure.
The consideration of steel gauge in metal buildings depends on its application or end purpose. For example, there is no need to use higher gauge steel for a simple storage shed, but in the case of a metal workshop, you should. Let's read more about steel gauge for metal barn buildings.
Why is Galvanized Steel the Best?
There are numerous reasons to consider galvanized steel for your metal barn building. Here are a few advantages of galvanized steel you must know:
The galvanized coating prevents rust or corrosion, increasing the structure's durability.
With long-term durability, the facility will last for decades and help you maintain sustainability.
Requirement of less maintenance and repair work makes the building cost-effective in the long run.
There is no significant requirement to repair minor scratches on metal surfaces.
Life of galvanized steel is predictable based on the thickness of the coating on it.
Besides these, several other advantages of galvanized steel are beneficial in the long term. For example, the advantages of galvanized steel, like reliability and rust protection, make your life easier. All these benefits make galvanized steel a superior choice for prefab metal barn buildings.
After knowing the advantages of galvanized steel, you should know the type of sheet metal we use at Viking Barns, one of the best metal building dealers in the United States.
Advantages of 12-Gauge and 14-Gauge steel
As a renowned metal building dealer, we are committed to offering the most reliable and durable metal barn buildings. To fulfill these commitments, we use the best quality 12-gauge and 14-gauge steel for steel barn structures. 14-gauge steel is significant for all standard barns, and 12 gauge for certified metal barn buildings, like clear span metal barns.
Advantages of 14-Guage Metal Sheets
14-gauge steel is the most effective type of sheet metal that is common for barns in areas with average weather conditions. Indeed, structures with 14-gauge are capable enough to withstand most climate conditions.
It is effective for small and standard commercial and residential structures to use 14-gauge sheet metal. Not only will it protect you and your belongings from natural calamities, but it will also help you be cost-effective.
Advantages of 12-Guage Metal Sheets
Converse to 14-gauge steel, 12-gauge steel is quite thick. It is commercial and industrial-grade because of its high durability and longevity. Compared to a 14-gauge steel frame, a 12-gauge is expensive but worth investment.
For example, if you live in an area with extreme climate conditions, 12-gauge steel sheds are highly suitable. In adverse climate conditions, structures with 12-gauge steel frames will remain standstill without significant distortions.
Not only for adverse conditions, but 12-gauge steel thickness is adequate for extensive structures like warehouses, production lines, commercial auto garages, and logistics buildings. It is efficient and safer to consider 12 gauge steel panels for commercial buildings.
Which One You Should Select?
You are planning a prefab steel barn for your property and are confused between 12 and 14-gauge steel framing. Going through the following information will help you make the final decision.
Climate Conditions
Climate condition is one of the critical factors that significantly matter in the selection of prefab steel buildings. For example, temperature, humidity level, wind behavior, rain, and snow are crucial factors for any structure's stability.
If you live in an area with average weather conditions, it would be better to consider 14-gauge steel for metal buildings. And, if weather conditions are not normal at your location, you must go for 12-gauge steel framing.
End Purposes of Infrastructure
Besides climate conditions, it is also essential to consider the end purpose of the building you are planning for. Apart from standard-size structures, if you are planning for an extensive metal barn building, it is adequate to consider 12 gauge steel framing for the installation.
With thicker panels and structural frames, you can achieve a higher stability and improve the ability of the structure to withstand external forces. Selecting 14 gauge steel framing for the commercial structure will make it vulnerable to damage. Also, the facility would not be able to withstand extreme calamities.
Get a Reliable Building Solution from Viking Barns
After knowing detailed information about metal gauges used in steel structures, you are ready to make the purchase. At Viking Barns, 14 and 12-gauge building options are available for you.
For standard building design, you can choose between 12 or 14-gauge prefab structures from us. All metal barns' designs for commercial-level facilities come with 12-gauge steel frames. Call us at 704-579-6966 to book your building now. For more support, you can also contact us online.