About Safeguard Metal Buildings
Safeguard Metal Buildings is one of the renowned metal building manufacturers in the United States of America. The manufacturer provides top-quality steel structures with its manufacturing unit installed at Waco, Texas. It provides you with different metal prefab structures, including metal carports, metal garages, RV Carports, steel barns, and other custom steel buildings at affordable prices.
Safeguard Metal Buildings has exceptional manufacturing that ensures your structure standstill for decades without frequent upkeep. Custom merl buildings offered by Safeguard Metal Buildings are engineered to confront high wind and snowfall, rated up to 130 MPH and 30 PSF. If you don't find a perfect match for your requirement, Viking Barns can help in finding the right structure within your budget. Give us a call at (704)-579-6966, and we will assist you with the ideal steel structure from Safeguard Metal Buildings.
Roof Styles Offered by Safeguard Metal Buildings
Most manufacturers offer three roof styles that you can choose when booking your order. The manufacturer provides regular roof, boxed-eave roof, and vertical roof options. Among all three options, vertical roof style is highly recommended to beat the harsh weather conditions and secure your valuables with utmost care.
Regular Roof Style: Regular roof style is recommended to protect your essentials from sunlight and average rain. It is an economical option among the three roof styles available. This roof style is installed with curved steel panels on the legs or posts, which require less labour. Moreover, it doesn't require eave side trimming, ridge cap, hat channel, which further reduces its cost and labour.
Boxed Eave Roof Style: Like regular roof style, boxed eave doesn't have ridge cap or hat channels. Hence, it is only effective to confront moderate weather conditions. It is installed in A-frame that gives a residential look to your structure.
Vertical Roof Style: It is the most feasible and practical roof style among three options. It is installed with hat channels that supplement the strength and enhance the life of your steel structure.
Color Options Offered by Safeguard Metal Buildings
Color plays a significant role in beautifying your steel structure. Safeguard Metal Buildings Provide 13-color options to choose from for your custom steel building.
The available color options are:
White
Quaker Gray
Black
Earth Brown
Burgundy
Evergreen
Sandstone
Clay
Pebble Beige
Tan
Barn Red
Slate Blue
Pewter Gray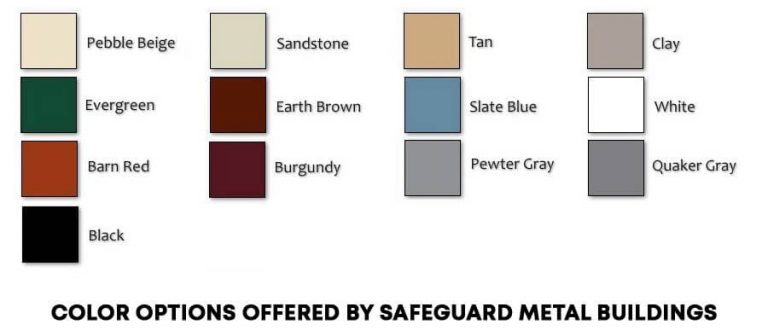 Steel Buildings Offered by Safeguard Metal Buildings
Safeguard Metal Buildings have multiple building designs that you can choose with easy payment options. Various steel buildings offered by Safeguard Metal Buildings include.
Metal Carports: Prefab steel carports are perfect to shelter your car, pickups, RV, and other daily-purpose vehicles. Steel carports are the ideal investment if you are looking for a prefab shelter from sunlight and rain. A standard metal carport can also be used as a party venue if your car isn't parked. Safeguard Metal Buildings provide you with 13-color options that let you choose the right roof color and make it a perfect match for your property.
Metal Garages: Custom metal garages are the right investment if you want all-side protection for your vehicles. It gives you complete protection to your beloved vehicles from thefts, vandalism, and weather damages. A metal garage is installed with walk-in doors, roll-up doors, etc. Metal garages come with three roof styles that you choose to provide the utmost protection to your essentials.
Metal Barns: Prefabricated steel barns are yet another offering by Safeguard Metal Buildings. Custom metal barns can be used to accommodate your farming equipment, vehicles, haystack, and livestock. A custom steel barn comes with 14-gauge steel frame. However, you can choose 12-gauge steel frame to get a strong and certified steel barn.
Other Metal Buildings: If you are looking for a custom metal building, Safeguard Metal Buildings can manufacture it for you and provide it in the shortest lead time. You can choose the building dimensions, color, roof-style, and customization options. Once you pay the upfront, we ensure you get your steel building in the shortest lead time.
Viking Barns - Authorised Metal Building Dealer of Safeguard Metal Buildings
Viking Barns is the authorized dealer of Safeguard Metal Buildings, offering you budget-friendly metal buildings with quick delivery and installation at your land. However, it's essential to ensure your land is ready for the crew for installation. With Safeguard Metal Buildings, we give you premium quality steel buildings that can be used for diversified benefits. Give us a call today at (704)-579-6966 and order a tailor-made metal building today.