December 21, 2022
7 Effective Ways To Customize Your Metal Barn Building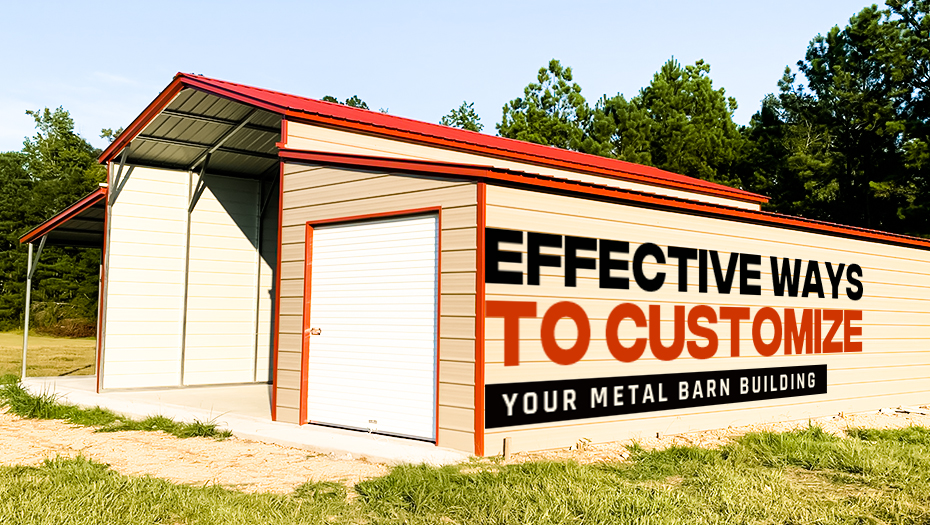 If you are looking for a custom metal building solution for your farm, home, or business purpose, you are at the right place. The metal barn building we offer at Viking Barns has a vast scope of customization and personalization. Metal building customization is one of the most effective ways to make your facility more functional and operational according to your requirements.
But people who don't know much about metal buildings and the customization processes often feel confused. So, we are here with the most common custom building solutions you can opt for.
Customization Possibilities for a Metal barn Building
In terms of custom requirements, metal buildings are the best solutions in the current scenario. Steel is the prominent material of choice in the construction industry. Steel's flexibility, tensile strength, and sturdiness offer tremendous possibilities for customization and modifications. The wide scope of customization without hampering the integrity makes metal barn buildings unique.
Customize Building Size
The size of the structure is the most critical element on which your functionality relies. So, you must consider the right building size. Mainly, the size of the metal barn building depends on the end purpose of the facility.
For example, size requirements will differ whether you plan barn building for residential, commercial, or farm uses. In the case of metal barn facility, you can consider functional requirements to select the best size for your metal building.
You can consult with the metal-building experts at Viking Barns for a more effective solution. According to your requirements, you can select from standard metal red barn to large clear span metal barn building.
Customize Building Design
Besides the size of the metal barn building, its appearance is also a critical requirement for the facility you are using for residential, farm, or corporate purposes. The flexibility and tensile strength of steel allow you to be more creative and effective with the design and appearance of the prefab metal barn building.
Metal barn buildings available now are significantly different from traditional industrial metal buildings. Based on the type of your metal building and its purpose, you can select the appropriate design and color for the barn building. At Viking Barns, there are 14 different color options for you. You can choose any color for the metal building to match the curb appeal needs.
Add Extension to the Facility
Although metal buildings are customizable, and there is a vast possibility, we still sometimes need extensions in the existing facility to be more functional and improve overall productivity.
For example, if you need some extension in the planned facility, you can consider attaching a lean-to-shed to the metal barn structure. It will help you attain additional space apart from the covered barn facility. In adding lean to shed to the existing facility, you can consult the metal building expert for a better plan and execution.
Customize Metal Building Roof
After considering the design, size, and aesthetics of the metal barn building, it is also crucial for you to ensure safety requirements of the facility. In terms of safety and security from external risk factors, you can select three solutions according to local climate conditions.
The regular, boxed eave, and vertical roof types are three standard roofs for metal barn buildings. Regular and boxed eave roof types are common for structures located in areas with average weather conditions.
If you live in an area with typical and abnormal climate conditions, it is more effective to consider vertical roof types for barn building. Vertical roof types are even capable of withstanding cyclonic winds. If you seek a more durable and sturdy facility, you can consider a structure with a vertical roof arrangement.
Add Windows and Doors to Structure
When it comes to the functionality of the prefab steel barn building, you need to maintain natural lights and ventilation in the facility. According to your functional requirement, size, and design of the facility, you can plan several windows and doors in the barn building.
Apart from planning the number of doors and windows in the structure, you can place them in appropriate locations according to your floor plan. Not only the number and placing of entries, but you can also select door type from the category of rolling, sliding, and simple walk-in doors as per your convenience.
Consider Proper Flooring
Along with design, size, aesthetics, and functionality, there is also the possibility of changing the flooring type in the prefabricated steel barn structures based on the end purpose of metal building.
For example, vinyl flooring is suitable for residential barn buildings, industrial mats or interlocking tiles are effective for industrial and farm uses, and there are several other types of flooring options available in the market; you can prefer them accordingly.
Organize your Storage Section
Besides all other custom factors, customized storage is one of the precise needs of a facility, whether for a residential, an industrial, or a farm building. As the traditional purpose of barn buildings, there is a massive scope for custom storage set-up.
According to the room you need to store all your stuff, you can plan appropriate storage in the metal barn facility. With the standard multi-span rectangular design of a metal barn building, you have enough liberty to design a floor plan comprising all your storage requirements. There is also some possibility for you to utilize the vertical room of the barn building for storage requirements.
Customize Your Metal Building With Viking Barns
After knowing all the customization possibilities for prefab metal barn structures, you are ready to buy one. To book your custom metal barn building now, call us at 704-579-6966 or contact us online for a personalized consultation. By purchasing metal building from Viking Barns, you can avail of benefits like 20 years of rust through warranty, 10 years of side panel warranty, and 1 year of workmanship warranty.