December 6, 2022
Barndominium: Perfect Choice for Your Dream Metal Home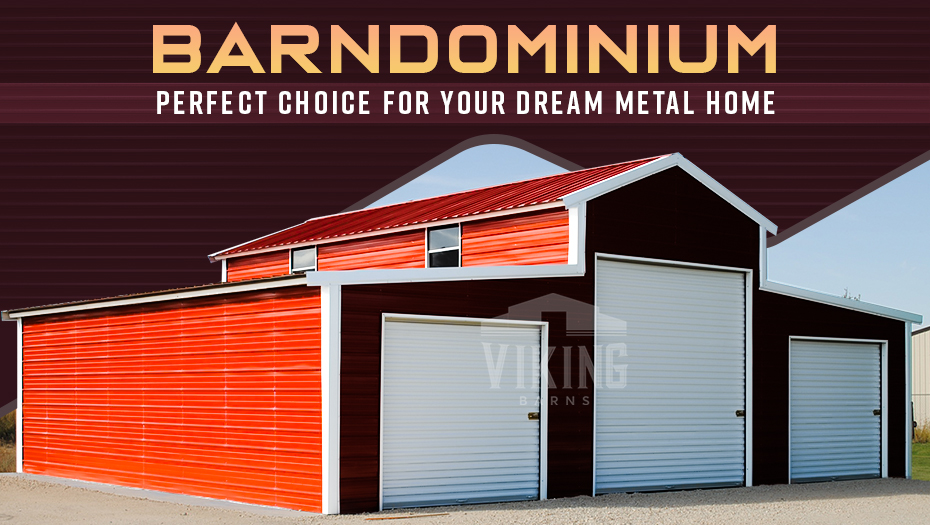 If you are looking for a cost-effective and durable residential building, Barndominiums are best for you. These structures are most common as farmhouses. The initial barn buildings were limited to farm uses, but later they became common for residential uses.
Metal Barndominiums offered by Viking Barns are the finest for individuals scrutinizing a permanent, cost-effective building. Features and advantages of metal barn structures as a residential facility attract people and influence them to purchase one. But first, we need to know the concept of metal barndominium.
What is a Barndominium?
Fundamentally, a barndominium is an open concept structure that is effective for providing large living and work areas. More often, the barndominium is planned for ample square footage.
In the earlier time, wood was the primary material for the construction of barn homes, but with the emergence and use of steel in building construction, these residential structures have gone large.
The use of steel allows you to construct large and multistory structures that you can use for various purposes. But the barndominium is most common for populous families. Using steel, home barn structures are highly enduring and long-lasting installations. The use of metal barns is not limited to farms and residential. These facilities are also eligible for corporate offices, restaurants, or recreational functions.
Why Metal Barndominiums are Different?
In different ways, prefab barn buildings are distinct from facilities like steel garages or carports. Not only in design but also in terms of functionality. If design of a prefab barn is compared to other structures, barns offer more vertical room along with horizontal span.
One of the core logic behind using the metal barn for residential purposes is its stability and elite ability to be versatile in terms of uses. Besides the versatility of structure, prefab barn buildings like clear span barns offer ample space that is all you need. All these advantages make metal barn buildings highly convenient for homes.
Cost of Barndominium
There is no standard design and size of metal barndominium; according to your requirements and needs, you can select any design and size. The cost factor of a barndominium highly relies on various factors, including:
Quality of Material: As a critical factor, material quality plays a crucial role in the cost of metal building. All metal buildings are available in two gauges: 12 and 14. The selection of the metal panel gauge depends on your requirements and the conditions where you are residing. As you go for higher-grade steel panels, the price of metal buildings will increase. For example, 12 gauge steel generally consists in certified steel facilities that cost slightly higher than standard structures,
Labor: You can understand labor cost as the cost of hiring a few numbers of laborers for a certain period. The number of laborers and the period of hiring them highly relies on the size and complexity of the structure. The barndominium is extensive and complex in design; it will require more workers for a few weeks or months.
Custom Requirements: All the metal buildings are available in standard size and design. But there is a possibility of customization with all metal buildings, so for metal barndominium. The way you want your barn home to be, they are open for customization. Cost of a metal barn is proportional to the level of customization you plan for your metal barn home.
Location: Apart from the size and complexity of the structure, the cost of a metal barndominium also depends on the area you reside in. For example, the cost of the metal building tends to go high if you live in the remote countryside. But you can plan your metal building with Viking Barns to get your barndominium at affordable pricing.
Size: Apart from all the factors above, the size of the metal building is the most prominent factor for the cost of the prefab barn structures. Similar to the impact of customization on cost factors, installation costs also tend to increase with the size of the facility. So, you must evaluate all your requirement before finalizing the scope of the prefab steel barndominium to be economical.
Steel Price: Besides all other factors, the price of steel in the international market is a critical factor influencing the cost of prefab steel buildings in the USA. Cost of metal structures fluctuates with the cost of steel in the global market.
Advantages of Barndominium
Why metal barndominium? To understand the perseverance of steel home barn structures, you need to go through its benefits. Here are the most prominent benefits of prefab barn building you should consider:
Cost-effectiveness
Longevity
Durability
Flexibility
Low maintenance cost
Nature Friendly
High Curb Appeal
Customization
So, why wait any longer? Let's find best barndominium structure for you.
Design Your Metal Barn With Viking Barns
The end of your metal barndominium quest is Viking Barns. With years of experience and expertise, we are one of your best options. Our metal building experts are always ready to provide the best counseling and suggestions. Call us at 704-579-6966 or contact us online to finalize your metal barndominium structure.