October 19, 2022
Leverage the Benefits of A Large Metal Barn Structure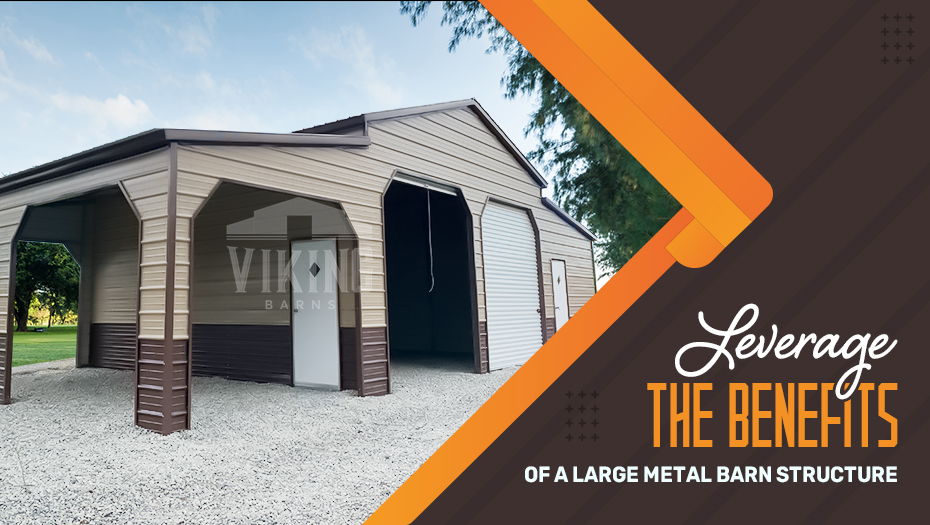 We all know metal barns are superior in terms of durability, safety, and many other factors people usually look for. But still, you don't know about the exceptional uses of commercial-size metal barn structures. You will be amazed by hearing about the use of these structures. No other buildings can offer such functionality as prefab barn buildings can offer.
Most people know the uses of barns located on farms and residential properties. But, the uses of immensive metal barns are also extensive. Here you can go through the following content to learn more about commercial and industrial uses of the clear span metal barn buildings.
Benefits of Metal Barn Buildings
Similar to standard steel barn buildings, the benefits of Commercial Barn buildings are also immense. Generally, these large structures are not designed for residential properties. If you are looking for a facility that can fulfill all your business requirements, you must consider the following advantages of prefab barn buildings for industrial and commercial purposes.
Metal Barns For Storage
As a storage space, there is no comparison of commercial barn structures. You can leverage the maximum available space with greater height and minimum column area. Extensive storage facilities are crucial for manufacturers that produce in bulk. With large production units, these manufacturers need ample storage space to manage inventory before dispatching their goods.
You can easily store all ready-to-sell goods in a steel barn storage facility with protection from external risk factors. With traditional structures, the requirements of large producers can't be fulfilled. With well-engineered storage arrangements, you can utilize the maximum available space.
Bigger is Always Better
Installing multiple storage units will not be cost-effective for you. For industry-level storage requirements, having a bigger storage unit is a better option than having more than one storage facility. Considering a large custom barn as a storage unit can save the cost of multiple storage facilities.
For industrial structures, having some additional space is always better. With better space availability, you can effectively store all the goods inside the facility in an organized way. It will definitely boost your productivity in terms of business.
Stay Protected All Time
For locations with extreme weather conditions, you need a facility to keep all business assets safe from natural calamities, including employees, machinery, and other crucial assets. As the traditional structures go large, they lose their ability to maintain their integrity and prevent them from falling apart, which is these structures' most critical drawback.
By buying a commercial metal barn facility, you will be able to protect all the machinery and keep all the employees safe from natural calamities. There is no such issue present in the case of metal buildings. As an all-weather building, it can survive all conditions without significant damage.
Fast Installation
In the industrial sector, time is money. Completing the installation of a metal building before time is nothing but an advantage for you. To understand the concept of fast installation of metal buildings, you must compare its installation time with traditional barns.
In installing a traditional barn structure, all the wooden lobs are brought to the installation site and processed before the final construction. Because of the additional time required for wooden lobs processing, wooden barn buildings take more time to complete.
Conversely, no such processing is involved in installing prefab commercial steel barn buildings. All the components used in the prefab barn are fabricated in dedicated metal workshops. Later all these components are delivered to the respective site for the final installation.
Because there is no such processing task in metal barn structure installation, it takes only a few days or weeks to complete. Time saved in the installation process can be utilized to start production and start earning profit.
Weather Resistant and Strong Build
Prefabricated metal buildings are famous as all-weather buildings. With the qualities and advantages of steel as a construction material, prefab steel facilities can survive all potential risks with minimal damage caused.
No weather conditions can severely damage metal structures, including heavy rainfall, hailstorms, windstorms, and snowfall. The facility's primary and secondary frames are designed so that even severe calamities can't affect these structures. With superior durability and integrity, these structures can serve you for decades with minimum maintenance cost.
For all the states of the United States, prefab metal buildings are the perfect choice for residential, commercial, and industrial uses. Steel is fire-resistant and fire-proof material. So, these structures can be used for the areas with the possible risk of wildfire.
Flexibility of Customizations
Customization is one of the basic needs of a commercial building. The design and layout of the structure change with its purpose. The industry has no standard for building size or floor layout. Commercial facilities are designed based on their functional and operational requirements.
For better functionality, the role of customization is highly crucial. It can help the organization achieve maximum productivity without changing the existing workforce and machinery. Just by designing a steel structure appropriately will help you reach maximum productivity.
Applications of Commercial Barn Buildings
Apart from the benefits explained above, you should consider some other benefits of metal buildings. Metal barn structures are highly versatile. With some sort of customization, these buildings can be used for commercial and residential purposes. You can use extensive steel barn facilities in the industrial sector for production lines enclosure, logistic facilities, assembly, and many others. It would be beneficial for you to select metal buildings over conventional structures.
Find the Best Commercial Metal Building From Viking Barns
Based on your business's requirements, you can find 100% American manufactured metal barns from Viking Barns, with 20 years of rust through warranty and 1 year of workmanship warranty. Our metal building experts are always ready to clear all your doubts about commercial barn structures. You can call us at 📞 (704)-579-6966 to know more about metal barn buildings and book your facility now.