January 3, 2023
Smart Ways to Level Up Your Metal Barn Building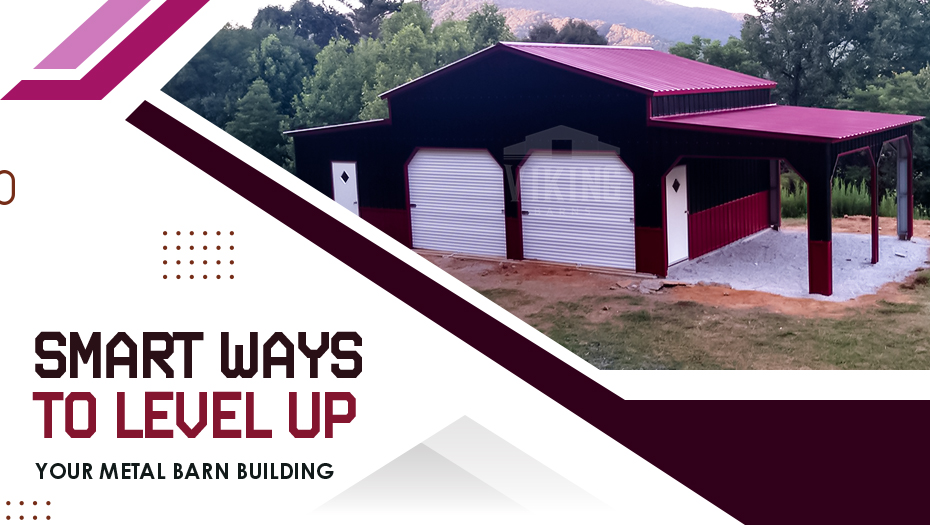 Since their emergence, barn buildings have been true friends of people in the USA. Traditionally, wood was the primary construction material for barn structures, but they are no longer in trend. Now,  metal red barns are taking the place of conventional barn facilities. These facilities are known for their multi-functionality and adaptability.
Metal barn building is superior to all other structures as a structural solution. With more height, multiple spans, and better structural strength, prefab steel barn structures are exceptional. A metal barn building will be your best solution if you are also looking for a facility that can fulfill all your requirements.
If you are planning for a metal barn building with better functionality and more comfort, you can upgrade a standard metal barn in a few steps. Reading through the following information will help you make the process of upgradation smooth and hassle-free.
Make Your Metal Barn Building More Functional
People often look for facilities that are more functional and comfortable in terms of uses. Because of several reasons, they refrain from doing so. Work commitments and lack of interest are some common reasons to avoid involvement. It might be a complex process for you, but it takes some effort to design your dream home.
To ease the entire task, you can take the help of metal building experts at Viking Barns. They will help you through the whole process and make You can consider the following ideas to redesign, customize, and personalize your barn building.
Start with Adding a Garage Door
It might seem obvious, but it is an essential task to do. Often metal barn buildings consist of large doors according to their functionality. For the metal barn buildings, there are different door options for you. But no door can offer better accessibility than a garage door.
Whether you are planning a residential, commercial, or agricultural structure, there will be a requirement for vehicle parking or accessibility. In such a case, a garage door can play a vital role for you. For the metal barn building, a garage door sounds more practical than any other type of door.
Adding a garage door to the metal barn building will improve your access to the structure and make all your functions more convenient. To select the right design for your garage door, you can look for your basic requirements and vehicle movements.
Add Walk-in Doors
Apart from the movement of vehicles to the barn building, there is also a requirement for a walk-in door in the structure to avoid the hassle of moving the garage door. There is a range of walk-in doors available at Viking Barns in different color options.
While selecting walk-in doors for your structure, you can consider all your requirements to prevent going over budget and avoid unnecessary structural elements. Planning a walk-in door in the structure is more about the accessibility to the metal barn building.
Besides parking or storage space, there is no additional requirement for the garage door. For such conditions, walk-in doors can play a vital role in your functionality and accessibility to the barn facility.
For example, if you plan for a residential or commercial structure, it would be better for you to plan a few walk-in doors in the facility to avoid issues related to accessibility. Compared to garage doors, walk-in doors are small in size. Based on the accessibility requirements, you can plan multiple walk-in doors in the structure.
Insulate the Structure
Climate conditions are critical factors for metal barn structures. In extreme climate conditions, condensation could be a typical situation for you. Suppose you plan a prefab steel barn for residential, commercial, corporate, or agricultural purposes. In that case, it will be essential for you to insulate the external walls of the barn structure to enhance temperature control.
The prominent reason for insulating buildings is to create isolation between the internal and external climate of the prefab barn building. Insulating the metal barn building will help you maintain a comfortable temperature inside the structure and prevent the accumulation of moisture on the metal surfaces that can lead to issues like corrosion, mold, and mildew.
However, insulation is essential to attain comfort if you plan a metal barn building for residential, commercial, or agricultural purposes. At Viking Barns, you have two insulation options: double bubble insulation and woven R-17. You can prefer one based on your requirements and climate conditions.
Install Sunroof & Windows
For any structure, the role of ventilation and illumination is highly critical. Without proper ventilation and illumination, you might face several issues inside the structure. Absence of an appropriate ventilation system can lead to problems like poor air quality index, rotten smell, and moisture issues inside the facility. All these critical aspects can affect your entire experience.
For example, suppose you use a prefab metal barn structure for a residential or livestock shelter. In that case, it can result in severe health-related issues and lead to fungal, mold, and mildew development on metal surfaces. You can install multiple windows in the metal barn walls to prevent such problems.
Through the windows, you will be able to regulate air naturally. Besides ventilation, you can also plan multiple sunroofs for the structure to access sunlight in the daytime and save on energy bills. In metal buildings, you have the liberty to plan customization before installation. So you can utilize all opportunities to create value from your metal barn structure.
Plan Your Metal Barn Structure with Us
After getting informed about a range of upgrade options for metal barn building, you are almost there to make the final purchase. To plan your metal building with Viking Barns, you can directly call us at 704-579-6966. You can also contact us online for detailed information about metal building customization and get one-on-one consultation.