September 16, 2022
Why Metal Barns are a Smart Investment over Wood Structures?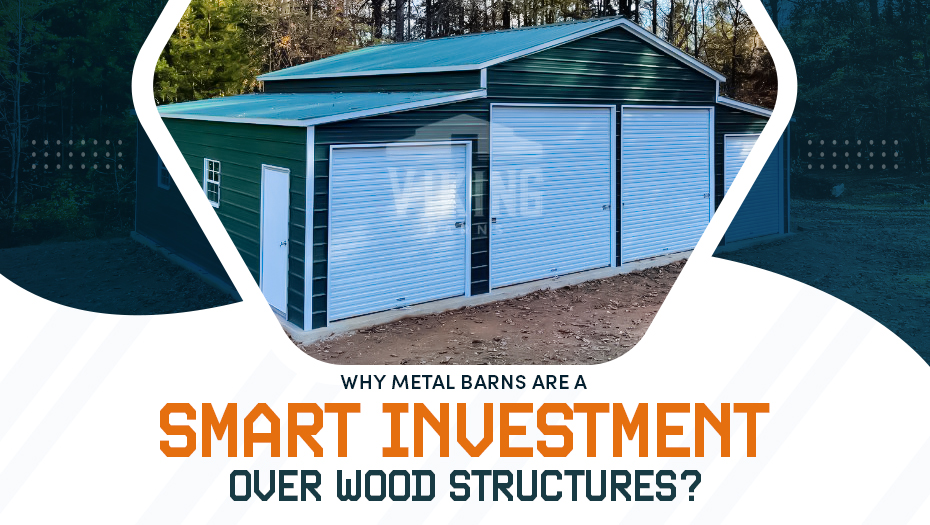 Farmers living in rural areas often require a barn, storage building, and a house for livestock protection, grain storage, and more. In the earlier days, wooden barns were used to house livestock, including cattle and horses, farming equipment, and fodder. However, these wooden buildings have many demerits like high maintenance, rotting, mold, termites, etc.
Nowadays, no one wants to spend their time in wooden barn maintenance, and that's why metal barn structures are getting popular. Metal barns have myriad characteristics to overcome the cons or limitations of wood barns. Let's discuss why you should consider a metal barn over wood structures.
High Tensile Strength: Metal barns resist heavy loads due to high tensile strength. Steel structures have a high strength-to-weight ratio than wood. Tensile strength helps metal barn to hold up and save your animals or hay during bad weather like cyclones, tornadoes, snowstorms, hailstorms, etc.
Highly Durable: Mostly, steel is used as a building material as it has high durability to withstand harsh weather like heavy winds, rainfall, snowfall, etc. Steel barns are unaffected by rotting like wooden barns. Metal barns are long-lasting, therefore, protect your livestock or grains for long, compared to wooden buildings. Steel used in barn buildings is ineffective of corrosion or rusting, and that's why you can choose metal barn if you live in coastal or humid areas.
Minimal Maintenance: Prefab steel barns need less maintenance than wood or other building. It is easy to clean and less often taking the care required. The paint is effectively immersed in the metal to prevent peeling or fading like wooden buildings. Wood barns are also vulnerable to fire! So, a steel barn building is the best selection for storage or livestock housing as you won't require frequent repair.
Easy Customization: Metal prefab barns allow you to customize without losing strength and quality, unlike stick barns. You can get your custom metal barns with desired changes that are tough in the case of wood. You can also extend your existing metal structure as your storage needs increase.
Infectant Resistant: Wood is vulnerable to pests, termites, red ants, etc. These infectants degrade your building and lower its lifespan. Molds also affect wood and might infect your livestock or grains. Infectants survive by eating wood, but they can't eat metal. Hence metal building is free from various infectants and protects your structure and assets.
Cost Efficient: Steel is lighter than wood, so less labor and time are required for transportation & installation. Initially, investment in metal buildings is costly compared to wooden structures, but in the long run, structures made from steel have high ROI (Return on Investment) as it bestow low maintenance requirement, high durability, ease of repair, and lower insurance premiums.
Recyclable: Metal can be reused for various operations, but wood is a non-renewable resource. According to studies, up to 85 percent of steel is reused from scrap metal. Hence it requires less energy than fabricating fresh metal from raw materials. Recycling reduces carbon emissions and helps improve the country's carbon footprint. 
You can sell your scrapped steel building parts to the recycling industry and get a new metal structure for your agriculture/farming purpose. You can also reuse your old building parts for other suitable tasks. So, a metal building is eco-friendly and best fit for your livestock housing.
These are the great benefits you get with a metal barn. The metal barn building is perfect for your livestock housing and grain storage because it can defend against adverse conditions that can damage or affect your animals and grains.
Viking Barns is the one-stop destination to fulfill your requirements if you are planning a new steel barn project in the coming months. We provide a wide array of prefabricated barn buildings that fall within your budget and offer premium benefits compared to conventional stick barns.
We also have easy Rent-To-Own and Financing options if you are financially unable to pay the total upfront.
Call 📞 (704)-579-6966 and share your barn expectations. Let us assist you with the right barn building that can serve you for decades.