October 27, 2022
Common Mistakes to Avoid When Constructing Your Prefab Steel Barn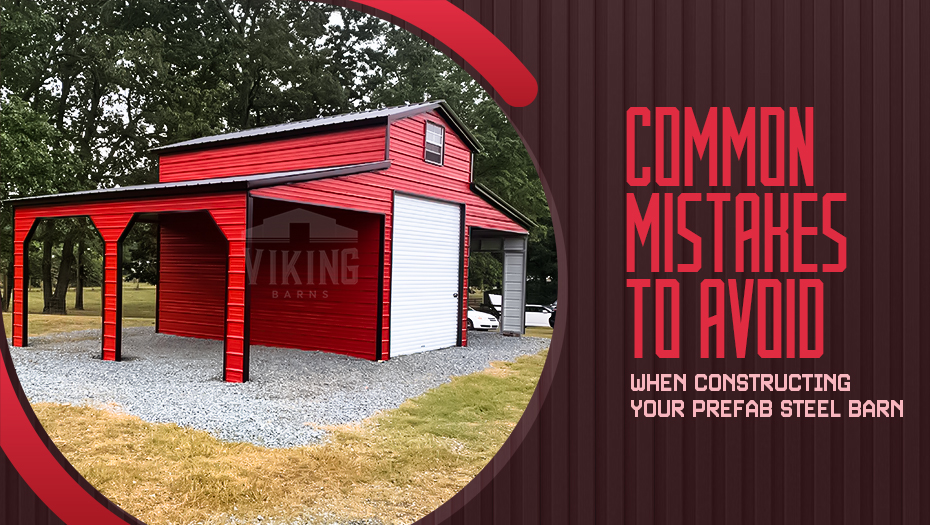 Number of steel barn buildings is continuously increasing in the USA. Not only for residential purposes, but these structures are also in use for commercial and industrial purposes. Initially, the prefab steel barn structures were significantly planned for farms. Later these structures become more versatile in terms of uses and applications.
If you are also about to plan a prefab barn structure, you must know all the dos and don'ts of process. Metal buildings are known for their sturdiness, durability, and versatility. But still, there is no space for mistakes. Knowing the most common errors of metal building installation process will help you perform the entire process seamlessly.
Common Mistakes That You Should Avoid
These are some mistakes people usually make while planning or installing a metal barn building. Going error-free will help to utilize structure that you are planning.
Having Wrong Estimation of Measurements
Finding the correct size of metal structure you need is the first step of planning a steel barn building. Without accurate measurements, you won't be able to plan an adequate structure.
Building size estimation is based on the structure's length, width, and height requirements. To some extent, it also relies on the purpose of prefab barn building.
Measurements of a metal garage barn might differ from a metal horse barn; it is entirely up to your needs and building purpose. But going with wrong building measurement would be catastrophic for you. A wrong-sized structure won't fit all the requirements and might let you go over budget.
To prevent these issues, it is essential for you to assess all the requirements and measurements before placing an order for a steel barn building. You can also contact our team of metal building experts to understand the building requirements effectively.
Selecting Wrong Building Design
After knowing the building measurement and conveying it to dealers, you need to find the correct design of the barn structure. The term building design for metal barn structures is mainly concerned with the roof type you have selected.
Selection of wrong roof type will be a long-term catastrophe for you. For both safety and economic concerns, it will create problems for you. You must go for the correct building design to avoid such future difficulties.
Specifically, there are three significant roof designs offered by Viking Barns that are standards for the USA weather conditions. Regular, boxed-eave, and vertical roof types are most commonly used nationwide.
Aesthetics and weather safety should be the primary aspects that should be considered while selecting a roof design for your barn building. In terms of safety from weather conditions, regular roof types are suitable for normal or average weather conditions, and boxed eaves or vertical roof types are ideal for extreme climate conditions.
It is recommended to go for a vertical roof type if you live in a place with frequent calamities. Apart from the safety considerations, you can also consider aesthetic factors to select an adequate roof type for a metal barn building.
Not Getting Approval From Local Authority
After finding correct measurement and design for the structure is the third and most vital step to getting approval from the local building authority. You cannot start any construction without getting permission from building authorities.
Without a building permit, your building is not a legitimate structure and is liable to be destroyed. You also might be fined for not getting approval from the local authority. To avoid all these issues, you must get your building approved form the respective authority.
Taking prior approval for the barn structure will help you avoid interruptions in the installation process and post-installation hassle. It is essential to prevent facing any legal action. It is recommended to consider all local and nationwide building codes for the planned prefab barn structure.
Incorrect Foundation Selection
As part of the core structure, metal building foundation should be planned accordingly. The stability and integrity of a structure rely on its base. If foundation of barn facility is not appropriately designed, the structure won't last for years. So, you should plan the foundation of building effectively to keep the structure stable and prolong its life.
Slabs, pier, and perimeter foundations are most commonly used for steel structure. You can select the appropriate foundation type for your structure based on the end purposes of the structure and soil conditions.
For example, slab foundation type is mainly preferred for residential structures, and perimeter and pier foundations are used for other structure types. Still, the selection of building foundations depends on your choice.
Conveying Wrong Information to the Dealer
Communication is one of the most critical factors during metal building planning and installation. It should be clear and precise. Based on the requirement and existing situation, you should effectively deliver all information to the dealer.
Sharing wrong or incorrect information can lead to more complexities and additional costs. By listing all the measurements and requirements, you will be able to convey precise information to the dealer after cross-checking. It will fill the information gap between you and the metal building provider.
Connecting to the Wrong Dealer
To ensure quality, safety, security, and reliability, it is essential for you to connect to an authorized building provider. Finding a certified dealer is the most challenging task to do. You can't rely on a dealer with no reliability and no guarantee of quality or service. But there is no need to go elsewhere; with years of experience and best customer testimonials, Viking Barns is the right destination for you. With a team of highly experienced and knowledgeable building experts, we are always at your service.
Incorrect Placing and fastening of Screw
Structural integrity is a critical factor for the lifespan of structures. If anything goes wrong, it can affect the structure's integrity. Nothing goes without a plan in installing steel barn buildings, even the placement and fastening of screws.
For example, fasting screws with wrong placement will affect the integration of metal sheets with the secondary frame of the structure. Incorrect screw placement will also expose the internal cavity of the wall to the external environment or cause bumps or dents to steel panels. Such errors can affect structure's integrity, reduce its durability, and increase the repair cost.
Get Help At Viking Barns
With prefabricated components, steel barn structures are simple in design. But you have to ensure that all the structural requirements are considered effectively. If you are still having confusion or doubts about metal building, we are here for you with the best metal barn building solution. Get in touch with us to know more about metal buildings. For more information, you can call us at 📞 (704)-579-6966.