September 26, 2022
How to design your own Custom Metal Barn?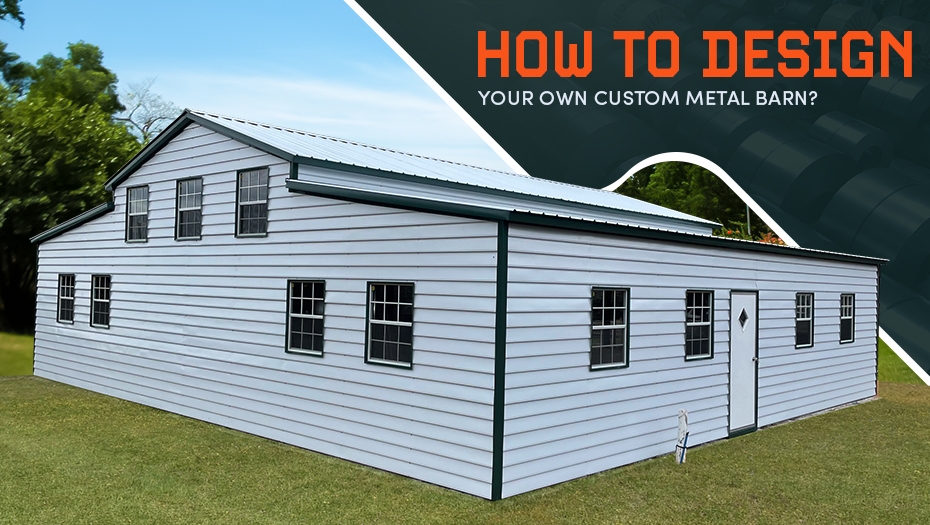 Metal buildings are getting popular across the United States, and people know how beneficial they are. Initially, barn buildings were specifically designed for farms and ranches; their purpose was to store crops and provide housing to livestock.
But now, the use of these barns is not limited to farms and ranches. People use barn facilities for residential, commercial, and regular agricultural use.
Steel barns have become the primary choice for the aforementioned purposes because of several benefits. People no longer stick to traditional barn buildings. You can understand the usability of the prefab barn structure just by seeing their increasing number across the United States.
Investing in real estate is a complex process. Decisions taken in a hurry can lead you to many problems. Considering the wrong building type will not be able to fulfill your end purpose. Standard and custom barns are two choices for people while going for metal barn structures.
For your personalized choices, Custom Metal Barns are the best available option; rather than going for the standard Steel barns, you can go for custom steel barns to attain more benefits and gain operational superiority.
How to Design Custom Metal Barn
Most people do not go for custom buildings because they know little about them. If you plan for a custom prefab barn, the following steps will help you go through the customization process of the metal buildings.
Know The Size Requirement
Size is a critical factor that mainly falls under the functional needs of a facility. A barn structure can't fulfill your operational needs if it is not designed according to your requirements. Steel barn structures are easy to customize if you know all the functional needs. Uses of steel barn structures are unlimited, but it is up to you how you want to use them.
For example, commercial barn buildings are mainly used as storage and assembly lines in different industries. So, during the size selection process, you can consider factors like the number of people accommodated in the office and the area required for machines. It will help you find the perfect size for the custom barn structure.
Besides the functional requirements, consider storage requirements before finalizing the building. Based on this evaluation, you can find the perfect size for the steel barn structure.
Select Right Customizations
Metal barn structures are versatile in terms of uses. But, a standard barn facility can not fulfill all your process-specific requirements. In this case, you need a designed facility that considers all your needs.
Flexibility and high tensile strength are the primary benefits of steel structures. You can customize the barn structure's design and layout by leveraging these features. Here comes the play of custom prefab buildings.
There are unlimited possibilities for customization in steel structures. You can ask the dealer to design the building based on the layouts you have created. For example, you can ask the dealer to install various partitions and loft structures in the building to meet storage and functional needs.
Select Right Color Combination
Customization in the metal building is not limited to design and structural layout. It also includes the aesthetics and curb appeal of the facility. The color profile of the structure is not that critical if it is about a barn that is located on a farm or a ranch.
Most steel barn structures installed on the farms are metal red barns, livestock barns, or horse barns. There is no such aesthetic requirement for these buildings. Functional requirements are higher for these structures.
But color customization becomes more crucial when the barn buildings are designed for residential or commercial purposes. It is essential for your building to look attractive and fulfill curb appeal to blend into your surroundings.
To provide a unique look to the structure, you can try different color combinations available at Viking Barns. Among all fourteen color options available at Viking Barns, you can select any based on your surroundings and building location.
These buildings are also available in dual tone, known as a wainscot. It will help you enhance the curb appeal of the structure.
Find the Right Doors Options
Safety and security considerations. Doors in metal barn structures when they are designed for residential purposes. For the door options, roll-up doors and walk-in are the most common types for custom metal barn buildings. Based on the end purpose of the structure, you can go for either a roll-up or a walk-in door.
Walk-in doors are generally preferred for residential properties and roll-up doors for garage buildings. Besides selecting the door type, finding the correct and standard door orientation in the metal barn structure is also essential.
Roll-up and walk-in doors should be installed correctly for better productivity, high functionality, and structural requirement. Selecting of right doors and their proper orientation will ensure structural stability and integrity.
Benefits of Metal Buildings
Apart from being sturdy and durable, metal buildings are also simple in design and structure. Because of this simple design and sturdiness, metal buildings are easy to maintain. Affordability, versatility, fire resistance, and energy efficiency are some other benefits of metal building you should consider before going for custom metal structures.
Why Buy From Viking Barns
With years of experience and expertise, we at Viking Barns are known for providing best-in-class buildings that will serve for decades. Metal buildings we offer are made of 100% rust-proof galvanized steel and come with 20 years of rust through warranty. So, what are you waiting for? Book your custom metal building now!
Get answers to all your queries by consulting our metal building specialists. Contact us by calling on 📞 (704)-579-6966 to get more information about custom metal barns.