January 19, 2023
Know All About Metal Barn Types [Part-1]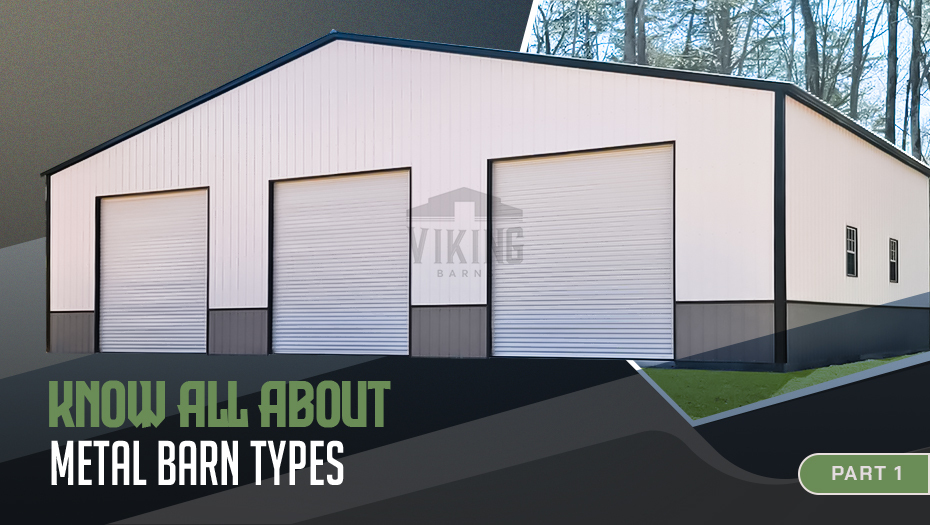 Avoiding metal barn buildings while having conversations about prefab metal buildings is impossible. Metal barns are unique structures that offer a vast level of benefits and advantages. If you are planning for a prefab steel barn building, you must go through all its designs and categories.
At Viking Barns, we are known for offering small barn buildings to sizeable clear-span barns. You can modify the structure according to your requirements using the customization approach.
Why Barn Buildings are Different?
In terms of size and shape, there are various options for you regarding steel barn buildings. However, steel barn structures are known as traditional designs, but still, they are best in design and durability.
Traditionally, barn buildings refer to agriculture buildings for storage and other farm purposes. But, no longer their applications limited to farm uses. And when it comes to the uses and application of prefab barn buildings, they are best in class. If you choose a metal building over a traditional barn building, it would be your best decision.
What Are the Most Common Designs of Metal Barn Buildings?
If you analyze the design of steel building barns from the perspective of red metal barn or any other barn buildings, it depends on the area in which you are planning prefab structure and local weather conditions.
However, metal buildings are versatile, enduring, and long-lasting; several other factors influence their size and design. Here we will discuss some standard designs of metal barn buildings you might find suitable for your property.
Pennsylvania Barns
If you consider, the design of Pennsylvania Barn is a dual-story structure that came to tradition around 1790 to 1900. In terms of installation, these barn structures are placed on the side hill to get easy access to the facility's first and basement levels. In terms of design, Pennsylvania Barns have a gable roof with additional storage and space and two separate floors.
When it comes to metal barn buildings offer higher stability, longevity, and endurance. Viking Barns offer metal barn structures that comprise standard galvanized steel that lasts forever without significant maintenance and repair work.
English Barns
For design considerations, Metal English Barns are similar to the Pennsylvania barns but came into existence around the 17th and 18th centuries. These structures have seen popularity in northeast America. Based on some assumptions, colonists who bought them from England introduced English steel barns to the United States of America.
Timber was the prime material for conventional barn buildings, and steel barn buildings use galvanized rectangular tubing and metal sheets. With the appropriate storage possibility and shelter for various other things, English Barns are best for farm applications.
New England Barn
Same as the name, New England Metal Barns was famous in England. If we consider the design consideration of structures, compared to English barn facilities, New England Barns do have doors on the gable end. With effective clear span, New England Barns are also possible within metal barn designs. You can go for either English or New England barn structures according to your requirements.
Bank Barn
Like the Pennsylvania barns structures, side hills and river banks are the best locations to plan Bank Barns. From the accessibility perspective, Prefab Bank Barns are the most efficient ones. If these structures are built into cliffs, individuals can access the story's first and second stories from the ground.
The original purpose of designing Bank Barn was to fulfill all essential requirements of cattle shelters and dairy farmers. In bank metal barn plans, using clapboards and cupolas ensures the needs of the ventilation requirements.
If you are using the upper floor of the prefab metal barns for storage, you can quickly drive your wagons uphill and access the upper floor. It will be easy for you. Bank Barn structures are effective for both residential and agricultural purposes simultaneously.
Round Barns
Most designs of prefab barns are purpose-driven. Considering the design of the prefab round barn building, it is entirely aerodynamic and appropriate for farm uses. According to metal building specialists, it requires less material in building configuration. Poring the foundation for the round prefab metal barn structure is easy.
There is no exact trace of a round barn structure in the USA, but it is assumed that the concept of a round barn started in the 19th century. Prom uses perspective; prefab round barns can withstand strong winds. Besides circular shapes, round barns are also available in hexagonal designs and polygonal shapes.
Get the Best Choice At Viking Barns
Here you have learned about a few prefab barn structures you can plan for your farm or residential property. At Viking Barns, we are committed to providing the best services to our clients with superior-quality metal buildings. To book your metal building now, call us at 704-579-6966, or contact us online for further consultation.