January 24, 2023
Know All About Metal Barn Types [Part 2]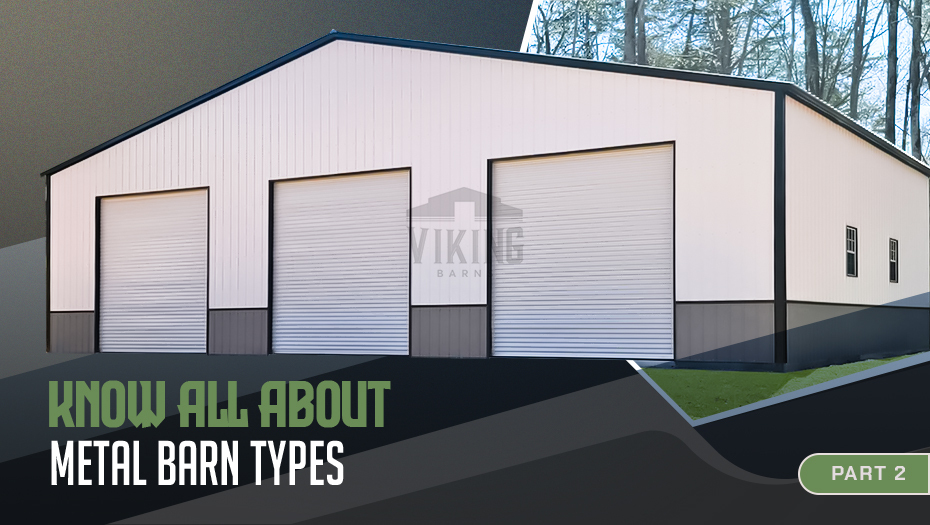 Previously we have discussed metal barn types in Know all about metal barn types- part 1. Here we will discuss other types of prefab barn buildings that people consider for their property. For decades, barn buildings have been the most efficient structures for versatile uses.
The name of most barn buildings is according to their significance in design, origin, and specific purposes. So, let's deep dive into a few more barn types to get proficient information about them.
Some Other Types of Metal Barn Buildings
Previously have gone through Pennsylvania Barns, English Barns, New England Barns, Bank Barns, and Round Barns. In this part, we will further consider Prairie Barns, Dutch Barns, Pole Barns, Crib Barns, and Rice Barns.
Prairie Barn
Besides the name "Prairie barn style metal buildings," these barn buildings are also known as western barn buildings. Apart from the barns discussed earlier, prairie barns reflect the iconic image of American-style barns. Prairie Barn structures become more famous during the 19th century during the settlement of the American West.
As a small metal barn building, the core purpose of a prairie barn is to offer secure and safe housing to livestock. In terms of configuration, prairie barns are comparatively larger in size & design and contain additional storage for the crop of hay storage. In some prairie barn designs, sweeping metal roofs often come so close to the ground, a significant trademark of prairie barn buildings.
Dutch Barn
Like other metal barn structures, Dutch barns are also effective for storage. As a core design, it is an agriculture structure commonly used as a hay or crop storage shed. Based on the origin of the design, these barns are named after Dutch settlers who brought them to the east coast of America around the 18th or 19th centuries.
Similar to other prefab steel barns, Dutch Barns consist of a primary steel tubing structure for core strength. As one of the standard specifications of Dutch Barn buildings, they are only covered from the weather side to keep crops and hay far from rain or snow. Dutch steel building barns are most effective from an agriculture and storage perspective. You can order a customized Dutch barn building based on your requirement.
Pole Barn
If you want to consider the origin of pole barn structures, they were the result of the great depression. During the economic crisis, farmers sought cost-efficient facilities that did not need any foundation. So, the solution they found was a pole barn structure. As a core composition, telephone poles are the core of the pole barn buildings without the significant need for a foundation. As an economical solution, pole barns have become the first choice of farmers and ranchers.
With the evolution, traditional pole barns turned into pole metal barn buildings. The composition of the pole steel barn is almost similar to the conventional barn structure but uses metal tubing and sheets. Still, prefab pole barns are highly in demand. A metal pole barn will be most effective if you want to own a cost-effective metal barn structure.
Crib Barns
Crib metal barns are famous across the US in the south and southeast regions. Besides the other barn structures used for storage, Crib Barns are not. Housing livestock and pigs are the core purposes of Crib barn structures. The design of a crib barn is according to their utilization, accordingly.
There is no vertical hay storage loft in the Crib Barn structure. These barns also come with low vertical heights based on their uses. Besides the traditional Crib Barns, steel sheets cover modern metal Crib Barns from the sides supported by a primary metal frame.
Rice Barn
As the name suggests, rice steel barn buildings are typical structures most effective for storing, drying, and harvesting rice. Regarding design, rice barn structures differ slightly from other barn buildings. These structures effectively have enough room to evaporate moisture from the top of the structure without coming into contact with the external environment. These structures are most effective for the processing and harvesting of crops, specifically rice.
To summarize all the information above, there are different types of barn-building in the USA with different uses, origins, and designs. Still, you can customize your prefab metal barn building according to your requirement and needs. We offer a wide range of custom features at Viking Barns to fulfill all your basic needs.
Significance of Metal Barn Buildings
Beyond the size, design, and uses, you can form metal barn buildings in different shapes and configurations. Extreme endurance, low-maintenance requirements, high affordability, and quick installation are some standard features of metal barn building that you can easily claim by purchasing a custom metal barn building.
Get the Best Support at Viking Barns
With years of experience and expertise, we at Viking Barns are always ready to offer the best services to our clients. We are committed to designing metal barns personalized to your requirements. If you are planning a metal barn building for your property, we are here to make it easy. To get Viking support, call us at 704-579-6966 or contact us online for an effective one-on-one consultation and learn about other benefits you can get.