November 18, 2022
Metal Barns- Sizes, Options, and Pricing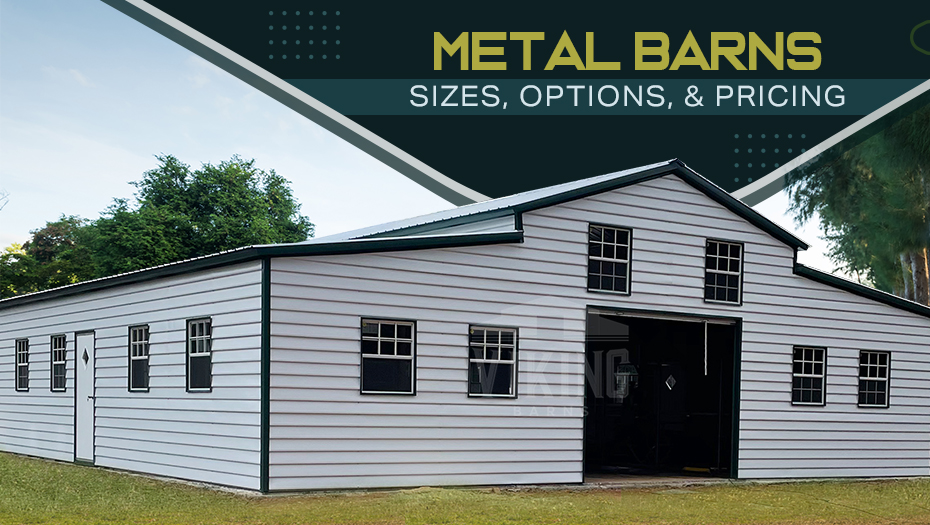 Barn buildings have been the most versatile structures for decades. Initially, the purpose of designing barn buildings was to create an adequate facility that can fulfill various requirements of farms, including storage, livestock shelter, equipment storage, and many others.
Later, the use of barn buildings also become typical for residential and commercial purposes. Now, after the revolution of the steel industry, it has become a primary choice of construction material for farm buildings and other building types.
Day by day, metal buildings are getting popular in the United States, specifically metal barn buildings. Before planning a metal barn building, you must know the answers to the following questions:
Why metal barn buildings?
What are available metal barn sizes?
What are common materials used for metal barns?
What is the installation process for prefab barn buildings?
How much a steel barn costs?
Let's get the answers…
Why Metal Barn Buildings?
This question might be popping into your mind why is everyone purchasing metal barn buildings for residential, commercial, or agricultural uses? So, here is your answer, the benefits of metal barn buildings are the reasons that encourage the selection of metal barn buildings over other structure types.
Here are a few must-know benefits of metal barn building you can consider.
Steel is one of the most flexible and durable materials that can withstand extreme external forces without significant deformation. Buildings fabricated using steel can standstill for decades and pass-through exceptional weather conditions.
It is time taking process to construct extensive traditional wooden facilities, and it costs thousands of bucks in the form of construction materials and labor costs. Conversely, the installation cost of metal barn buildings is not that much.
Because of prefabricated building components, these facilities do not take long to complete a metal barn building; the installation process requires no significant labor.
As a durable and sturdy material, there is a significant requirement for maintenance work for steel barn facilities. However, routine maintenance is essential for metal barn structures, including building inspection and cleaning tasks only. Repair work only requires if the facility faces any damage due to calamities.
With the stability of steel and workmanship of Viking Barns, metal barns are highly durable structures that can serve you for decades without significant maintenance processes. Even certified metal buildings are capable of surviving intense weather conditions. So, there is no need to worry about the life of steel structures.
Building customization is one of the core features of prefab steel buildings. Personalization might be crucial if you consider steel barn building for residential or commercial purposes. No facility will offer you comfort if it is not designed per your needs.
Available Metal Barn Sizes
There is no size limitation for metal barn buildings. These metal structures are available from standard building sizes to existential commercial barn facilities like metal aircraft hangers or extra large metal sheds. The size of a steel barn building depends on your intended use.
Sizes of metal barns are not limited to a few; it is also easy to design a custom facility by conveying all your requirements to the metal building dealer. Not only size, but you can also customize the design of the prefab barn facility.
There is a vast range of steel barns available at Viking Barns that you can consider for your intended purpose. can consider
Material Used for Metal Barns
Different metals qualify the race to be used in the metal barn construction process. But they all do not offer the same durability and longevity. At Viking Barns, we do not compromise with our commitment to providing best-in-class buildings to our clients.
All our steel barn buildings are fabricated using 100% rust-proof galvanized steel. High durability and tensile strength is the best material for steel barn structures. You must buy from us if you need a barn facility with superior build quality and exceptional strength.
Installation Process for Prefab Barn Buildings
People often presume metal building installation is complex and time-consuming, but it is not. Compared to the construction of the traditional wooden facility, it is a lot simpler with the use of prefabricated steel components. It takes only a few days or weeks to complete the installation of the steel barn building. The most common steps involved in the installation of metal barn buildings are:
Site preparation
Building selection and placing order
Build foundation
Installation of primary and secondary frames on the foundation
Installation of the roof frame
Adding side and roof panels to the structure
Install doors and windows as per the building plan
Steel Barn Cost
Often people need clarification about the cost of metal buildings. Sturdiness and curb appeal are prime factors that make them look expensive, but they are not. If steel structures are compared to traditional wooden barns in the context of cost and durability, there is no comparison between these structures. Steel barn buildings are way more cost-effective than conventional barn structures.
Primarily cost of steel barn building depends on the size and design factors. Along with the size and design, several factors also influence the cost of steel structures, including the cost of steel in the international market, demand for steel in the global market, fluctuating crude oil prices, global economic factors, and other miscellaneous factors.
Contact Professionals
After getting aware of all the phases of a metal building purchase, it is good to go signal for you. Plan your metal building purchase with Viking Barns and get benefits like 20 years of rust through warranty, 10 years of side panel warranty, and 1 year of workmanship warranty. Get expert consultation with our metal building experts just by a call 📞 (704)-579-6966, or you can also contact us online.