November 10, 2022
8 Common Mistakes To Avoid When Purchasing A Metal Barn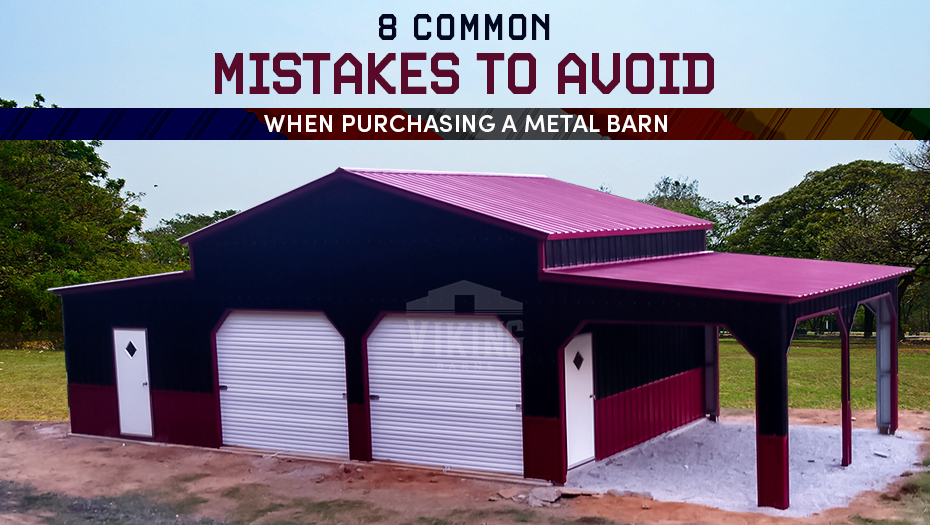 Purchasing a metal building is a significant investment you make, and no one wants it to go wrong. It seems easy to buy metal buildings, but it can end up in a disaster if anything goes wrong; all you can do is avoid mistakes.
If you plan a prefab barn building for your property, we at Viking Barns are here to help you avoid common mistakes people often make.
Mistakes You Should Avoid When Purchasing Metal Barn Building
There are some common mistakes people often make in the process of planning metal barn buildings. Avoiding those mistakes will make the entire process seamless for you.
Pour Building Foundation Before Getting Into Building Plan
Foundation you pour for metal buildings varies on their shape and design. If the correct order for metal barn installation is considered, first, you must consider selecting the design of the structure.
Knowing the design requirements and measurements of metal barn building will help you pour the foundation correctly. There will be limited scope available for modifications if you have already poured the foundation without finalizing the building design. Later it might affect your functional and operational requirements.
To prevent all these shortcomings, it is recommended to go for metal building design first and then for pouring the foundation.
Taking Delivery of Building Components Before Getting Building Permit
People often feel excited thinking about the plans they have for the proposed building. But over-excitement can make you end up doing some common mistakes. For example, Getting permit for the metal building before actual installation is necessary. Moving further without a permit will affect your liability and land you in legal trouble.
Buying From an Unauthorized Dealer
It will be the worst condition for you if you have selected an unauthorized dealer to purchase the metal building. Your entire buying experience depends on the selection of the dealer.
Purchasing from the wrong dealer could be a nightmare for you. It can become a severe disaster, and you might end up paying more than the actual cost of the metal barn structure. It is wise to go for an authorized metal building dealer like Viking Barns. It will reduce the burden on you and improve your buying experience.
Hiring Third Party for building installation
There are various buying options available in the market that you can consider. Dealers work with different terms and conditions. Some of them work based on contracts where they charge separately for building components, delivery, and installation.
This process's ultimate goal is to offer more flexibility to the buyers. To take advantage of the situation, people often prefer to hire third-party installers to be cost-efficient. But some people make the worst decision and prefer to go for cheap buying services which are not recommended. By doing this, you would be playing with the integrity and stability of the structure.
At Viking Barns, we offer prefabricated barn buildings at competitive pricing, including delivery and installation charges. You will not be charged anything apart from the upfront cost.
Buying Wrong Building Design
The one thing that matters the most is what you end up with. If you cannot fulfill the end purpose with the barn facility you have selected, it would be the worst condition for you. All your efforts and investment will go in vain. So, it is more effective to analyze all your requirements initially and then select the design & size of the metal barn.
Going for Cheap Material
Whenever it comes to buying metal buildings, cost and quality are two significant factors you must consider initially. Only considering the cost factor and avoiding the quality factor can later lead you to grief. You might compromise the quality factor by buying cheap. It would be more effective for you to consider a building solution with superior quality and relative cost.
Impulsive Buying
Most of the time, people read about the benefits of metal barn building and go for impulsive buying. In some cases, it would be productive for you, but only sometimes. For prefab barn buildings, it is more effective to perform in-depth research and then go for purchase. Taking time for research will help you assess all your needs and select metal building designs accordingly. From both functional and cost perspectives, restrain buying will help you.
Avoid Paper Work
No matter how compelling your communication with the metal building dealer is. Maintaining paperwork for work logs and communication with the installation team is essential. It is a way to prevent all barriers and gaps in the communication process. With no communication gap or barrier, the transfer of information will be smooth and error-free. It will help you achieve all your functional and operational goals.
Get Your Metal Building At Viking Barns
You don't have to worry about anything if you are buying your metal barn building from Viking Barns. With years of experience and expertise in metal building installation, we offer a wide range of metal buildings, including clear span barns, metal red barns, horse barns, metal garage barns, seneca barns, and many others.
You can select any above metal barn buildings based on your functional requirements. For a seamless buying experience, call our metal building experts at 📞 (704)-579-6966 or visit our building catalog.