December 27, 2022
Know The Best Ways to Use A Metal Barn Structure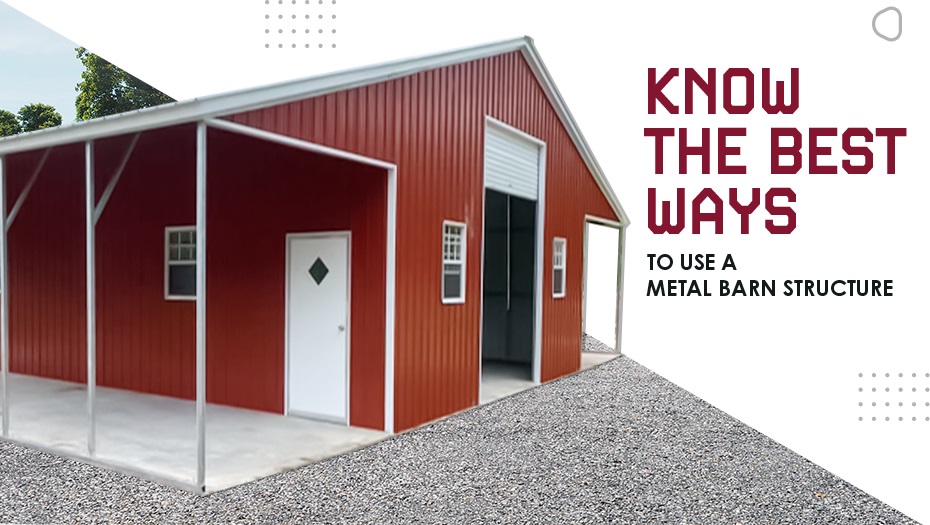 In the current scenario, versatile and customizable structures are trending in the USA. Especially the metal barn structures. Since its emergence, it has been one of the most famous structures across the country. No matter if it is the freezing temperature of Minnesota or the boiling temperature of Florida, prefab steel barns are helpful for all conditions.
With high Versatility, better durability, and longevity, prefab barn structures are everywhere. Besides all such benefits, metal barn buildings offer some advantages that are highly valuable for you. Not only for farm, residential, or industrial uses, but barns designed by Viking Barns are suitable for endless uses.
The Uses of a Metal Barn Structure
Since the emergence of metal barns, people have been using them as multipurpose buildings. The barn structure's additional height and multiple spans make it more durable and valuable. Here are some versatile uses of prefab barn buildings for your business, home, or purposes.
Wooden Workshop
In the time of machines, craftsmanship is rare. Besides the precision and accuracy of automatic machines, originality is always missing. Machines are suitable for quantity production, but nothing can match the art of an individual artist.
If you love crafting wooden furniture or art pieces, you might need a building that can work as both storage for your raw material and a workshop where you can land your creativity on the wood.
For all your infrastructural needs, standard metal barn buildings are the best. It will be the solution to all your requirements. Better vertical span will create additional storage for you, and a multi-span structure will help you be more organized.
To create your highly functional wood workshop, you can consider barn buildings like custom metal barns or metal red barns. Both these structures will be best suitable for all your functions and operations.
Auto Garage Building
Setting up an auto garage would be an effective option to start your business. With better placement and customer targeting, you can make a good profit. But there are some basic requirements to create a new auto garage business.
Apart from land and skilled workers, a core requirement is to have a fully functional facility that can accommodate all your functions and operations. You need a structure that can offer a clear span with minimum column area. No other facility will be able to offer such a large span without columns other than prefab barn structures with superior durability, longevity, and minimum maintenance cost.
To start your business asap, you can consider clear span metal barns or metal garage barns for purchase.
Prefab Gym building
If you consider the gym an integral part of your life and can't avoid exercising, not even a day. You can plan your home gym with prefab metal barn buildings. Using a carport-type barn building, you can create an open gym.
According to the functionality of gym and weather conditions in the local area, you can prefer an enclosed or open barn building for the gym. As a multi-span structure, you can divide the barn into different sections to make the building more useful. Considering custom metal barn building is the best way to stay cost-effective without losing functionality.
Art Studio
It is the dream of many people to have an art studio in their homes. It is a common hobby for people of all ages; there is no age limit. Prefab barn structures are most suitable if you need a place to draw your imagination and land your creativity on canvas. It will be the best place to think alone and be more creative with ideas and thoughts.
Creating an art studio using a metal barn building is too easy. These structures are available in different designs, sizes, and configurations. Based on your plan and requirement, you can select a distinct size or layout of the metal building.
Music Studio
Music has been a part of civilization for centuries. Its role is not limited to entertainment, but it is also helpful for various therapies in the medical field. If you play any instrument or want to learn, you need a place to practice in your free time.
Designing a music studio where you can practice instruments without disturbing others would be most effective. Planning a separate facility will also help you get additional time to work on your skills and compose new music. You can design a music studio with a steel barn building for professional and hobby purposes.
Plan Metal Barn Building With Viking Barns
Besides the various applications of metal barn building explained above, you can consider numerous other uses of the prefab barn structure. All you need to do is to come up with an idea and interact with steel building experts at Viking Barns. Our metal building experts will help you plan your impeccable structure within a few days with high accuracy.
To plan your metal building with Viking Barns, call us at 704-579-6966 or contact us online. We are always ready to serve you with one of the best-in-class metal barn buildings that will serve you for decades without trouble.