November 24, 2022
Next Big Thing In the Application of Metal Barn Building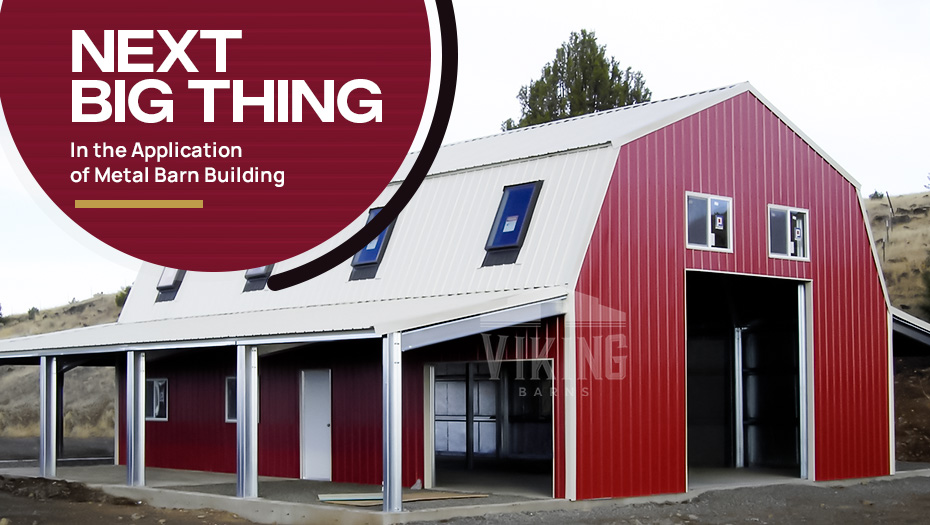 Over the decades, people have known value of barn buildings. As an agriculture building, barns are the core of various farm functions. Before the use of steel for metal facilities, wood was the primary material for all barn structures we see on farms. But now, wooden barn structures are outdated. No longer do people prefer them for their property.
Now it is time for metal barn buildings to showcase their advantages. Unlike other structures, steel barn structures are highly durable, versatile, and long-lasting. And, considering a barn-style metal building will be beneficial for you and your purpose.
But, before entering the realm of metal barn applications, we must learn its benefits first.
So, let's go!
Advantages of Metal Barn Building
Metal barn buildings are not underrated. People already know how these buildings are precious in terms of safety and use. From the cost of prefab metal building to its versatility, these structure comes with exceptional benefits. With the durability and flexibility of steel, barn metal building offers a range of benefits, including durability, time-efficient, fore-resistant, longevity, cost-effectiveness, less maintenance, pest-free, eco-friendly, and flexible customization.
Whether you need a facility for residential, commercial, or agricultural purposes, prefab metal barns are suitable for all. You can leverage all the benefits by considering it for your property.
Best Applications of Metal Barn Building
In terms of versatility and application, there is no comparison between metal barns. Same as traditional wooden barns, metal barns are highly versatile, even more than them. You can consider the following applications of prefab steel barn buildings based on your requirements and functional needs.
Horse Barn Building
It is not uncommon to have a horse barn on your farm. Farmers with extensive land often consider having horses on farms, similar to what we have seen in movies. It is the best facility to keep all your livestock safe from all external perils, including weather, wild animals, and other issues related to security.
Building a metal horse barn is relatively easy with prefabricated steel components. With the prefabricated components, you can design a facility that suits all your functional and operational requirements.
You can also make alterations to the standard barn structure according to land availability, livestock count, and budget limits. Planning with a futuristic approach, you can design a facility that will serve for decades.
Boarding Facility for Horses
For people who own horses and do not have a facility to house them, you can offer them a place where they can accommodate their horses and ensure their fitness. It can be your alternate source of income.
A prefab steel barn is perfect for designing a stable for horses and an indoor arena. Using a practical floor plan, you can also plan a tack room, feed room, and office area within the prefab building.
With the durability of steel and integrity of metal barn structures, you can keep your livestock safe and secure from possible risk factors. Prefab barns are also immune to pests. So, your horses and feed will remain safe from infections that can lead to severe diseases.
Feed or Hay Storage
Most of the facilities you plan on the farm are specific for storage, whether equipment storage or crop storage. It is a critical challenge to design a structure that is capable of keeping crops and hay safe from external environmental risks and pests.
As feed or hay storage, a prefab steel barn structure has many advantages. Barn buildings have an additional vertical room, which effectively creates additional storage. To attain this extra storage, you can design a loft structure in the facility. This separation allows you to create distinct storage for different stuff without risk.
Work Shops
Having a workshop on your residential, commercial, or agricultural land is common. Workshops are facilities where you can work on various projects, including fixing farm vehicles, running commercial auto garages, or a wood/metal workshop.
Designing a workshop structure is so easy with a prefab steel barn.
Metal Red Barn
Red barn metal building is the most common type of structure on farms. It is not distinct from the traditional barn design. The red color of these structures comes from traditional wooden barns.
Purpose of coloring it red is to prevent the infection of mold and mildew. The color used for the facilities consists of rust or red oxide to keep the wooden structure from pest damage. Later this became a tradition, and metal buildings were also available in red color.
Now, metal red barns are most common on farms and are used for equipment, feed, hay, vehicle, and crop storage. You can also use these facilities for multipurpose use.
Buy Your Metal Barn Building Now From Viking Barns
You have already explored various benefits of prefab metal barn buildings. So, don't limit the use of your new metal barn building to one or two. We at Viking Barns are always ready to serve you with the best quality metal structure that will last life long. If you are having trouble placing an order or customizing your metal barn, call us at 📞 (704)-579-6966. You can also contact us online to learn more about financing options and get answers to all your queries.