October 13, 2022
Now Own Your Dream Steel Barn with Rent To Own Program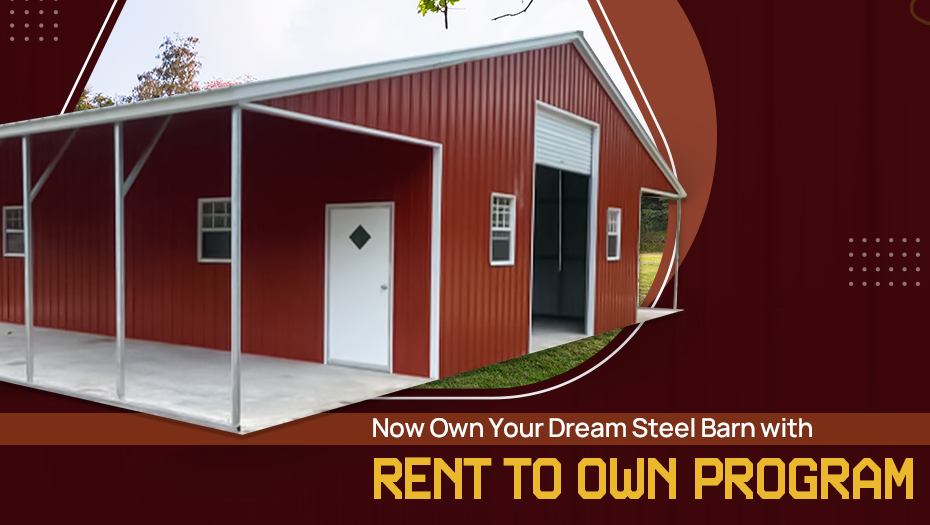 Do you know that US has about 44.4% agriculture area?
Dependency on agri-products is irreplaceable, and technology has blessed farmers with modern solutions to grow their production. Farming has multiple prerequisites, and a barn building is basic among all.
Farm building is essential for numerous reasons, and below are a few of them:
Equipment parking
Hay storage
Crop Storage
Livestock housing
With these basic benefits, you can stay assured of hassle-free farming. Steel barns are highly recommended and modern solutions for farmers. However, investment in a barm building isn't easy for everyone.
Hence, farmers either halt their barn-buying decision or find financial aid. Viking Barns has the right solution for this.
At Viking Barns, we provide easy Rent To Own options that facilitate you with multiple benefits. Before we migrate to RTO Benefits, know what is Rent To Own option.
What are Rent To Own Barns
Everyone isn't financially strong to pay full upfront for a custom steel barn. That's one reason people invest time to save enough funds and buy their dream barn building.
Buyers who lack enough cash to purchase a barn structure immediately want a financing opportunity that will allow them to get a custom barn structure with a small deposit.
Rent To Own is the right choice if you are unsure about buying a metal farm building but have current requirements.
You must understand when is the right time to opt for Rent To Own.
If you are already renting a steel barn but are planning to purchase one soon, an RTO Barn will be the right choice.
If you are remodeling your home and are looking for short-term storage space on your land, you can go with an RTO Building.
Your harvesting is done, and now you are looking for storage space for crops.
You are planning a startup and are looking for a small structure to jumpstart your home office.
These are a few of many scenarios when you should have thought about RTO Program.
Interestingly, some farmers often prefer renting a steel barn over RTO. However, RTO Program by Viking Barns has numerous benefits over taking a barn rental service. Below listed are the advantages.
Advantages of Rent-to-Own
Quick Approval Process: Once you apply for an RTO program by Viking Barns, it comes with a quick approval process. As no credit checks are involved in Rent-to-Own, you don't need to worry about a low credit score. Ultimately, zero credit checks result in quick approval.
Budget-Friendly: Not everyone is financially strong enough to pay the full metal barn price. Hence, they always prefer paying a small upfront and getting a steel barn for their purposes. Rent-to-Own is the right option to pay small initially and convert the final building amount into monthly installments.
In short, buying your dream RTO Barn is now easy with Viking Barns, as it lets you order your dream barn building with a small initial deposit.
No more Obligations: If you close a deal at any time in the future and are no longer planning to use your steel barn, the RTO program lets you end it immediately. The RTO program comes with a month-on-month contract that you can end anytime.
Get Ownership in 36 Months: Once you have paid the full building price via monthly installment, you can get Ownership of the building hassle-free. Viking Barns provide Ownership in 36 Months or Less once you complete your repayment schedule. Post-payment, you will become an official building owner.
So, what are you waiting for?
Selecting RTO Program is a wise choice to meet your current storage or parking needs. It is also a great opportunity over rental services, ending with 100% ownership of the building.
That said, it's time to make a smart purchase without investing a higher amount. Let us know your custom metal barn requirements and turn them into a fully-functional structure.
At Viking Barns, Rent To Own program is available to let you buy any steel building matching your requirements and budget. We ensure you make a wise selection with a highly cost-effective structure available in the market.
We are always available to take your queries at 📞 (704)-579-6966 and suggest the right steel structure.