October 4, 2022
Ways to Keep Your Metal Barn Cool In Summer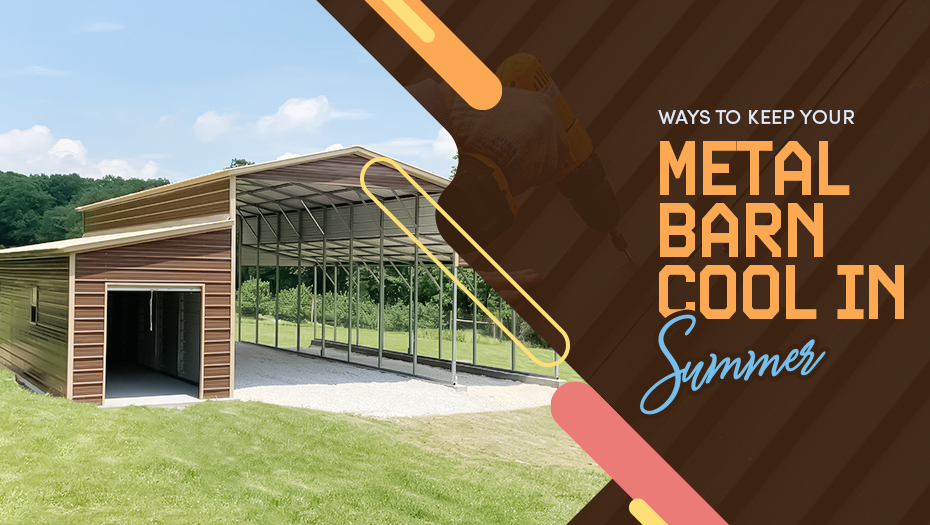 If you live in states like Florida, Louisiana, Texas, or Georgia, you already know how problematic summer can be. Conditions are even worst for metal building owners.
Due to the excellent conductivity of heat, temperature control becomes highly difficult and costly. You cannot control the climate, but preparing your metal barn structure can help you avoid all summer suffering.
Solely a red metal barn or custom steel barn can not prevent heat from entering the structure, but some accessories can help. For example, insulation, resistance barriers, and other innovative ideas can provide you with an edge over issues like temperature control and raging energy bills.
Best Ways to Avoid Temperature Problems in Hot Summers
As a metal building provider, Viking Barns is known for offering the best accessories and buildings designed to improve your comfort level at an effective cost. Here are a few possible solutions you can prefer for your metal barn building to eliminate heating issues in steel barn structures.
Insulate barn Structure with High-Grade Insulation
Insulation is the savior for metal building owners. In steel structures, insulation is a barrier that prevents heat from entering the facility. The materials used for the insulation layer are the inferior conductors of heat, avoiding any heat transaction between the outer and inner layers of a metal building.
For locations with sweltering summers, higher-grade insulation can be used to provide better insulation to inner chambers. For additional protection, you can also use a resistance barrier to improve the efficiency of building insulation.
As preparation for summer, you can ask the metal building dealer to consider higher-grade insulation for the prefab barn structure. You can also contact metal building experts at Viking Barns to offer or suggest practical solutions.
Use Light Color Roof Panels to Reflect Heat
Considering dark-colored panels for the building roof can cause more heating issues inside the structure. Dark colors are known to absorb more heat compared to lighter colors. It is a fundamental scientific principle in which light colors reflect sunlight and heat.
Based on the curb appeal, you can try any of the fourteen color panels offered by Viking Barns. Based on the curb appeal, you can try any of the fourteen color panels offered by Viking Barns. Rather than going for a dark-colored roof, you should go for a light-colored one to effectively control extensive heat. It is one of the cheapest ways of preventing heating issues in steel barn structures.
Add More Windows and Doors to Barn Building
On hot summer days, when the entire metal building is heated up and the temperature inside the building is also out of control, nothing can save you except air regulation. Windows, doors, and sunroofs are traditional ways of temperature control.
When planning a steel barn structure for your property, you can ask the dealer to install multiple windows and sunroofs to dissipate heat in the environment naturally. It is a cost-effective solution to help regulate fresh air inside the structure and deal with temperature issues.
It is better to consult with metal building design engineers to know the correct orientation of windows and doors to the prefab facility. The proper orientation of windows and doors will help you ensure the integrity and robustness of the structure.
Design Metal Roof with Cooling Coat
Apart from the other options, a metal roof cooling coat is way simpler method. All you need to do is to coat the roof of the metal barn building with reflective resins or metallic coats. By reflecting the maximum heat, the temperature inside the structure can be easily managed.
Using cooling coating on the roof panels of the steel barn is effective in reducing energy use. Application of this cooling coat is also simpler than other processes used to prevent heat issues in metal barn buildings.
Install Effective Ventilation System to The Metal Barn
An effective ventilation system can help you regulate fresh and pure air inside the facility. Compared to the standard metal barn building, it is much easier to control the temperature inside a structure equipped with a proper ventilation system. It could be a natural way of managing the in-house environment.
To improve the effectiveness of the ventilation system, a gravity ventilation system can be installed in the structure. It allows you to regulate the air with minimum use of electricity. Such a design is also effective in making the facility energy efficient. Conversely to the use of air conditioning units, ventilation systems are way more straightforward and energy efficient.
Use Additional Accessories to Metal Barn Structure
Ways used for climate control in metal buildings are not limited to the use of paint, cooling coat, windows, and insulation. You can also use additional accessories to drop the temperature inside barn building during summers. In this process, the eaves of the existing building are extended using lean-to sheds to stay protected from the direct impact of sun rays.
With a small investment, you can get a long-term solution for temperature issues in warm areas. You can try Seneca Barn to get additional storage space and protection from harsh sun rays.
Landscaping Solution
Thoughtful landscaping can be considered one of the most effective options for cooling your barn home during the daytime. Planting trees nearby the prefab barn structure can save you from the hot summer sun. Planting vines on the walls of the building also can be an effective solution to avoiding rising temperatures inside the structure.
Get Support at Viking Barns
With years of experience and knowledge, we at Viking Barns are known for providing best-in-class American-manufactured metal barns at competitive pricing. Contact our metal barn experts at 📞 (704)-579-6966 for all metal barns-related queries.