September 15, 2021
What Makes Metal Buildings Sustainable to Minnesota's Extreme Conditions?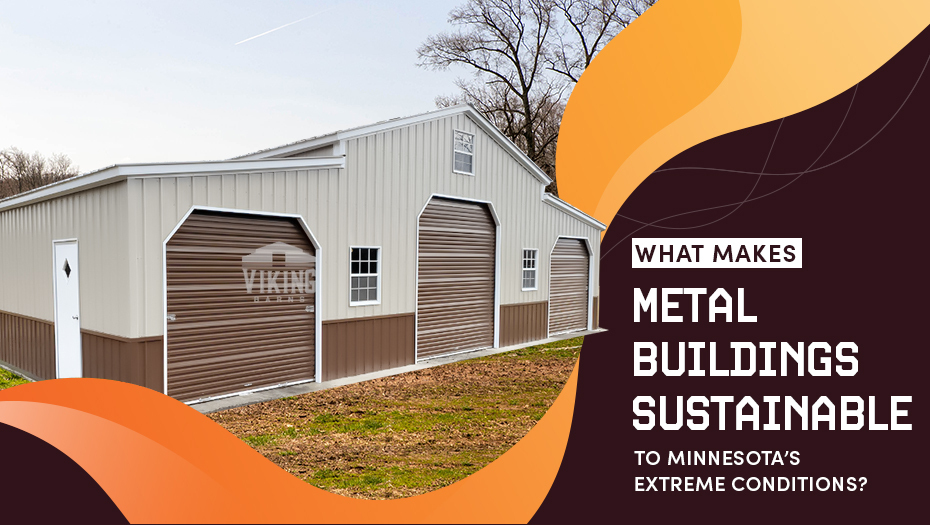 Minnesota is the 12th biggest state of the United States of America and ranked 22nd in terms of population. More than half of the Minnesota population lives in the Minneapolis–Saint Paul metropolitan area. That's why these cities are also known as the "Twin Cities."
In terms of weather conditions, Minnesota has humid weather across the year. Summers are hot, and winters are cold. The winters in Minnesota are witnessed below the freezing temperature that covers the state under a snow blanket.
The location of Minnesota is another big reason why it witnesses tough weather across the year. The extreme weather conditions compel the residents to find a reliable and long-lasting option to protect their valuables from damages.
Common Weather Hazards Faced by Residents in Minnesota:
Temperature: Minnesota has experienced some of the record-breaking temperature counts in history. The highest temperature ever recorded in Minnesota's history is 115 deg. F on 29th Jul 1917.
Simultaneously, the minimum temperature ever recorded in its history is -60 deg. F on 2nd Feb 1996. Such temperature is never good for wood structures.
Billiards: Another big issue faced in this state is high winds that were recorded in January 1975. The highest speed of 80mph was recorded that devastated the entire state. Moreover, snowdrifts of up to 20 feet were also experienced in the state, making zero visibility in winter and challenging for the residents.
In the same year, blizzards of up to 100mph attacked the state that caused more damage to the state.
Tornadoes: Tornadoes are also some of the common weather hazards where the residents faced tornadoes of up to 100mph. In 1992, multiple tornadoes affected the state with the highest speed of 260mph.
According to the National Weather Service, the state witnessed a total of 48 tornadoes in a single day.
Wildfires: Hot summer is yet another big problem for the residents of Minnesota. Undoubtedly, the state has some amazing greenery that makes it one of the tourist places across the USA. Yet, some forests cause wildfire. A recent example was seen in 2011 when a lightning strike caused a small wildfire in the state.
So, what is the right investment for Minnesota residents to protect their livestock, vehicles, and other valuable assets?
It's none other than prefab metal buildings. Metal building experts always recommend buying a certified metal building that comes with the certification to stand still against harsh weather conditions and provide maximum safety to your assets.
Building custom metal buildings provide numerous advantages over wood and other construction options. Below listed are the prime reasons for selecting steel buildings over conventional wood.
Fire Resistant: Steel used in metal buildings has a high temperature that makes it the perfect fit against wildfires. The steel buildings with proper insulation ensure top-end safety for your livestock and valuables.
Pest and Termite Resistant: Wood easily gets damaged by termites and pests. Regular treatment is required to keep the pests and termites away from wood structures, which is costly. However, steel has no such issue. Steel is entirely resistant to pests and termites.
Minimal Maintenance: Wood requires timely maintenance to keep it strong; however still requires minimal maintenance compared to wood. Steel structures usually witness dents that require minimal efforts to bring them back to their normal state.
Above all, you don't need to worry about heavy snow loads and still water problems on the roof with a certified metal building. The certified structure is installed with vertical roof that encourages easy runoff of water and snow.
Buy Your Dream Steel Barn from Viking Barns:
Now you are well satisfied why you deserve a certified metal building in Minnesota. If you are planning to own your dream structure, Viking Barns is here to provide you the best-build structure at an affordable price.
With every building you buy from Viking Barns, you get a 20-year rust-through warranty alongside a one-year workmanship warranty. Moreover, we also have an easy RTO and Financing option that helps you in the easy buying process. Our RTO program includes no credit checkers making it easy for people with bad credit scores.
So, don't wait anymore and connect with us today at (704)-579-6966 to make the smart decision right away.