November 2, 2022
Why Are Metal Barn Buildings Best For Commercial Uses?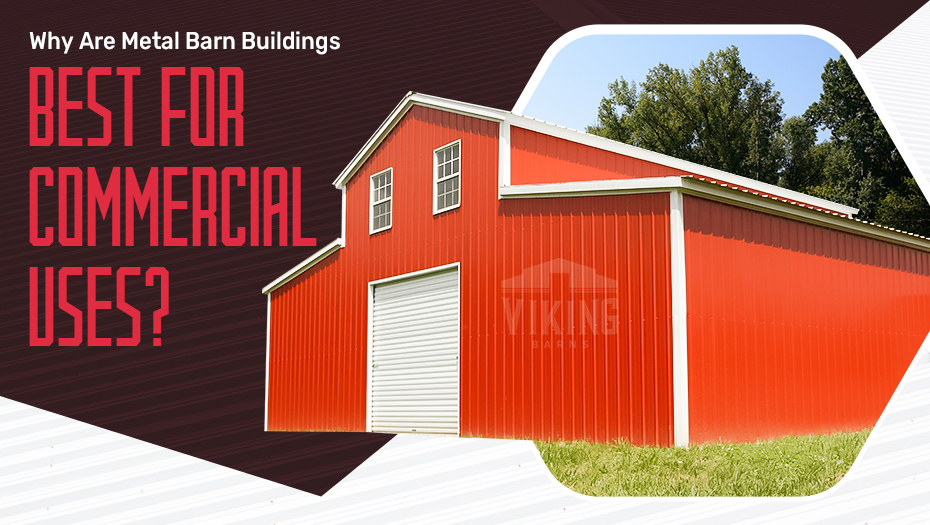 Where you work and how you work are essential for your business. The place you work is the core and sole of your business. To fulfill your business goals and offer quality products to your consumers, you need to have a facility that is designed as per your business needs.
Among the buildings getting popular among entrepreneurs, commercial metal barn buildings are best for commercial uses. Prefab steel structures have become the primary choice for business uses. Ease of installation, versatility in uses, and complexity of the maintenance process are key factors that make metal barn buildings suitable for business uses.
You need to understand the advantages of steel barns to assess their suitability for business or industrial uses.
Advantages of Metal Barn Building for Commercial Uses
Some qualities and advantages metal barns have that are best suitable for business uses. The following advantages will help you understand how prefab barns are best for business purposes.
High Structural Strength
It is the primary step to analyze local climate conditions before selecting a particular building type. Structures considered for commercial uses are vital in size and design. Durability and strength of structure are critical factors for uninterrupted operations.
Compared to the structural solution used for commercial purposes, steel structures offer high durability and structure strength at relatively low prices. Steel is a superior construction material in terms of tensile strength and weight-bearing capacity.
With superior structural strength and integrity, metal barns buildings are the best solution for your business purpose. Even if you live in an area with exceptional weather conditions, certified metal buildings will be the best option. All commercial structures offered by Viking Barns are certified for wind speed and snow load.
Clear Span
Clear span is the core requirement of commercial steel buildings. For all your functional needs, fulfilling ergonomic considerations is essential for you. If you are considering a conventional structure for your operational needs, you should know the feasibility of clear span with them.
If timber's weight-bearing capacity and tensile strength are compared to steel, timber as a construction material can't face off with steel. It is not feasible to design a clear-span facility using wood. Without column support, foundation and leg support won't be able to handle the load of building roof. Sooner or later, the facility will tend to collapse. You can fight the structural requirements using clear span barn building.
Long Life Span
Mostly, durable and long-lasting structures are preferred for all uses, including residential, commercial, and agricultural uses. Steel vertical roof barns are known to last for decades without significant maintenance or repair work.
Effective weather resistivity and high durability allow prefab barn structures to survive extreme weather conditions and all external forces. It is most effective to have a long-lasting facility for your business to run uninterruptedly. It can also reduce the number of off-times required for the building maintenance process, which will enhance your productivity.
Economic Solution
Selecting an economic structure for your business operations will be better, but you can't compromise the safety and security concerns to become cost-effective. It is essential to design a facility that is equally safe and economical for commercial use.
You don't need to go anywhere to find such a facility. Commercial metal barn structures can easily match your budget and safety requirements. Due to high structural strength and durability, metal barn buildings do not need frequent maintenance.
Also, no such complexity is involved in the maintenance task; it only consists of basic cleaning using pressure water or cleaning agent and sometimes facility inspection after adverse weather conditions. If steel barn buildings require some repair work, it can be performed rapidly by replacing the faulty components with new ones, and the use of prefabricated components makes it possible for you.
Fire Resistivity of Structure
In business operations, you can't ignore the risk of fire hazards. Although these accidents are not common for all businesses, nothing is wrong with being prepared for all possible dangers. With the fire-resistive and non-combustible nature of steel, commercial Metal building designs are best suitable for areas prone to wild and bushfires.
By considering metal barn buildings for commercial purposes, you will be able to prevent all risk factors associated with fire-hazard. The fire-resistive nature of steel will help you contain the fire to a limited section in case of fire accidents.
High Resale Value
Compared to the other building types, prefab steel barn buildings retain their value for an extended period. Here, high versatility and durability work for the value of your property.
If you want to relocate your business or rent out the existing structure, you will not be facing any issues. Even you will be able to get better resale value for the metal barn structure.
Custom Building Solution
Last but not least, prefab barn buildings can fulfill all your custom requirements. It is common to have different structural requirements from other businesses. It will be challenging for you to get all the features in a standard commercial barn building.
In that case, going with a custom commercial barn facility will be the only option left for you. You can share all your structural requirements with us to get the best quality commercial barn facility for smooth business operations.
Get Ultimate Solution At Viking Barns
Now you are aware of all the advantages of commercial barn building for business uses. So, there is no need to go elsewhere. Call us at 📞 (704)-579-6966 to book your metal building now. With years of experience and best-in-class manufacturing facilities, we are known for providing the best quality metal building in the United States.
By purchasing a metal barn building from us, you will get a 100% American manufactured prefab barn facility with 20 years of rust through warranty, 10 years of side panel warranty, and 1 year of workmanship warranty. Claim all benefits now.